Online Sales Aptitude Test for Sales Representative
Topics Covered
Negotiation Skills
Presentation Skills
Communication Skills
Sales Fundamentals
Excel Advance 2016
Useful for hiring
Sales Executives
Salesperson
Sales Representative
Telemarketers
View Sample Report
Start hiring job-fit candidates using this assessment
GET A DEMO
"We are impressed by the caliber, depth, and breadth of the assessments provided by Interview Mocha. With Interview Mocha's online proctoring & powerful reports, we are able to hire quality candidates overcoming geographical barriers."
Megan Akhras, J'Excelle,Canada,
Co-founder & director
Question
You are the Sales Manager of a product based firm. A potential customer requested the quotation for one of your products. You forwarded the quotation which contains the prices. The customer replies saying, "Hi John, I want to discuss some details regarding the quotation. Let's have a meeting tomorrow.". Select the correct option regarding the meeting.
Answer
You should start the meeting by providing a reasonable discount to the customer for making him buy the product.

You should start the meeting by providing him the discount brochure for the product.

You should let the customer start the meeting and understand the points put forth.

All of them are good ways to start the meeting.
Question
Mary is a young and dynamic sales representative. She works for a consumer durables company in the US. During the client interactions, she diligently thanks her customers and shares her visiting cards. 
After every meeting, she shares minutes of the meeting with the client and succeeds it with a formal follow up. How can she further improve her sales interactions?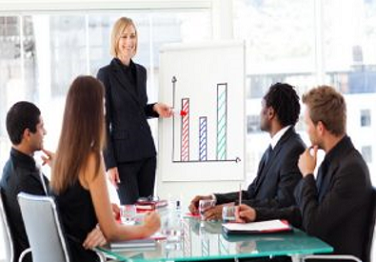 Answer
Mary can continue to remain formal and polite with the client throughout the meeting. No change is recommended.

Many sales interactions will require her to get to the items on the agenda quickly. In such cases, she can directly start with the agenda to save time.

In the current scenario, it is better to be flexible than structured. She can be more customer-centric, rather than process-centric.

Mary should be punctual in her meetings, and be specific about the agenda.
Question
Which of the following functions will you use to get return the interest amount paid for the payment number mentioned in Cell A8?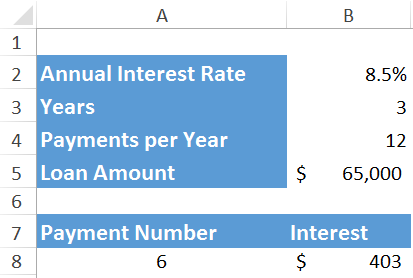 Answer
'=-IPMT(B2/B4,A8,B4*B3,B5)

'=-IPMT(B2/B4,B4*B3,A8,B5)

'=-IPMT(A8,B2/B4,B4*B3,B5)

'=-IPMT(B2/B4,B4*B3,B5,A8)
Test details:
The aptitude test for sales representative enables employers and recruiters to identify & hire potential salesperson by evaluating the working skills and job readiness of candidates. For this reason, an emphasis is laid upon evaluating the knowledge of applied skills gained through real work experience rather than theoretical knowledge.

The sales aptitude test may contain MCQ's (Multiple Choice Questions), MAQ's (Multiple Answer Questions), Fill in the Blank, Descriptive, Whiteboard Questions, Audio / Video Questions, True or False.

Test Duration: 30 minutes
Questions: 20

This aptitude test for sales representative contains a combination of application and theory questions that help you to evaluate the practical skills of candidates.
Test description:
Aptitude test for sales is used to check the ability of a person to convert prospects into paying customers. A salesperson requires multiple skills to succeed on the job and very often he/she does not have higher educational degrees. It is commonly understood to be a function of appearance, mental abilities, personality, social skills, motivation, and a well thought & flexible sales approach. The main role of the sales representative is to work with customers to find what they want, to provide solutions and to ensure a smooth sales process. They will work to find new sales leads, through business directories, and client referrals. The sales representative also focuses on inside sales that involves cold calling for their new clients and outside sales which involves visiting the clients in the field.

Sales aptitude test helps recruiters & hiring managers to validate the proficiency of candidates in sales as well as aptitude before an interview. Online sales aptitude test is designed & developed to check the skills of a salesperson as per industry standards.

The salesperson aptitude test helps to evaluate below-mentioned skills of the candidates:
Customer Service skills

Communication skills

Strong Negotiation skills

Building relationships

Flexibility

Time Management

Demo Skills

Active Listening

Our aptitude test for sales executive and/or salesperson will make sure to help you for validating all the required skills such as customer-focused attitude, good communication and goal driven approach and will further ensure that the hiring manager gets the right fit candidate for the sales job. Our score reports will give a detailed analysis of each candidate and will provide the analytical data which saves the time of the recruiter.
Good News! You can customize this test as per your requirement
Choose and add questions from Interview Mocha question libraries

Add your own set of questions

Customize test settings like duration, number of questions, passing score, web proctoring and much more

Mail us at support@interviewmocha.com to create a custom test
Looking for a tailor-made test, to suit your assessment needs?
Get in touch
Global companies using Mocha assessments
How Mocha assessments are brewed
Speed up your IT recruitment with Interview Mocha
500+ IT skill tests
20+ coding languages
50+ domain knowledge tests
100+ digital 2.0 skill tests
Customer focus aptitude tests
Enterprise ready features & more...
GET A DEMO
Why hiring managers and recruiters across the globe love Interview Mocha
Take your first step to hire job fit candidates