Quantitative Aptitude Test Online
Topics Covered
Pipes and Cistern
Simple Interest
Trains
Work and Time
Profit and Loss
Percentage
Ratio- Proportion
Mixtures and Allegations
Directions
Boats and Stream
Useful for hiring
Fresh Graduates
Entry Level Candidate
Candidate with 0 to 1 year of experience
View Sample Report
Start hiring job-fit candidates using this assessment
GET A DEMO
"Interview Mocha has provided UNEECOPS with a veritable assessment platform with a comprehensive test library, online test platform, and intelligent reports. This made it easier for us to map different job openings with job-fit candidates and recruit faster."
Nisha Chandila, UNEECOPS,
Talent Acquisition Manager
Question
A car is at speed 20 mph. How much time will it take to cover a distance of 1000 yards?
1 mile = 1760 yards
 
Question
Johnathon goes for a jog in the morning at 7 am. He has a music playlist which he listens to every day during his jog. If the average length of a song is 4 minutes, and there are 12 songs in total, assuming he jogs at a speed of 3mph, what distance does Johnathon cover?
 
Question
Balley bristo is very busy restaurant. Below table gives details of number of people who are present on specific table during mentioned times of the day.Based on the given data find out the average number of people who are present at any table during the day ?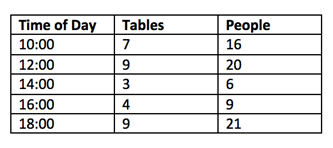 Test details:
Online Quantitative Aptitude Test enables employers and recruiters to identify potential hires by evaluating working skills and job readiness. For this reason, an emphasis is laid upon evaluating the knowledge of applied skills gained through real work experience, rather than theoretical knowledge.

The test may contain MCQ's (Multiple Choice Questions), MAQ's (Multiple Answer Questions), Fill in the Blank, Descriptive, Whiteboard Questions, Audio / Video Questions, True or False.

Test Duration: 30 minutes

30 Application Questions

The Quantitative Aptitude skills test contains a combination of application and theory questions that help you to evaluate the practical skills of candidates.
Test description:
Online
Quantitative Aptitude
test is created & validated by global subject matter experts (SME)s to assess expertise in
Quantitative Analysis
as per industry standards.
A Quant expert is a person who is good at all kind of mathematical problems. The individual possesses extensive skills in fastest comprehension of a math problem and finding the solution.
Quantitative Aptitude Test Online
has been designed and developed to help employers and recruiters evaluate the quantitative skills of candidates. The test contains well balanced and meaningful questions on Pipes and Cistern, Simple Interest, Trains, Work and Time, Profit and Loss, Percentage, Ratio- Proportion, Mixtures and Allegations, Directions, Boats and Stream and many more.
Using powerful reporting, you will have a detailed analysis of test results to help you make better decisions and predict candidate and employee success.
Good News! You can customize this test as per your requirement
Choose and add questions from Interview Mocha question libraries

Add your own set of questions

Customize test settings like duration, number of questions, passing score, web proctoring and much more

Mail us at support@interviewmocha.com to create a custom test
Looking for a tailor-made test, to suit your assessment needs?
Get in touch
Global companies using Mocha assessments
How Mocha assessments are brewed
Speed up your IT recruitment with Interview Mocha
500+ IT skill tests
20+ coding languages
50+ domain knowledge tests
100+ digital 2.0 skill tests
Customer focus aptitude tests
Enterprise ready features & more...
GET A DEMO
Why hiring managers and recruiters across the globe love Interview Mocha
Take your first step to hire job fit candidates