Python Pandas Online Test
Topics Covered
Panda Dataframe
Data sources in Python
Tools and Services
Popularity Indexes in Pandas
Useful for hiring
Python Developer
Python Data Engineer
View Sample Report
Start hiring job-fit candidates using this assessment
GET A DEMO
"Interview Mocha has provided UNEECOPS with a veritable assessment platform with a comprehensive test library, online test platform, and intelligent reports. This made it easier for us to map different job openings with job-fit candidates and recruit faster."
Nisha Chandila, UNEECOPS,
Talent Acquisition Manager
Question
How would you drop all rows in a dataframe - "df" which have less than 5 non-null values?
Answer
df.dropna(axis=1,threshold=5)

df.dropna(axis=1,count=4)

df.dropna(axis=0,count=4)

df.dropna(axis=1,thresh=5)
Question
The pandas dataframe of the shown dataset is "df". Pandas is imported in your program as "pd".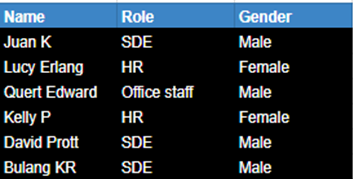 How do you obtain the count of males and females for different job roles as shown in the image below?


Answer
print pd.count(df.Role, df.Gender)

print pd.series(df.Role, df.Gender)

print pd.frequency(df.Role, df.Gender)

print pd.crosstab(df.Role, df.Gender)
Test details:
Online Python pandas test will evaluate a candidate's practical knowledge and will identify whether the candidate is ready to be employed. Python pandas assessment test can be taken by candidates from anywhere in the comfort of their time zone.

Python pandas skills test may contain MCQ's (Multiple Choice Questions), MAQ's (Multiple Answer Questions), Fill in the Blank, Descriptive, Whiteboard Questions, Audio / Video Questions, True or False.
Test Duration: 20 minutes
10 Application Questions
Test description:
Pandas is an open-source Python library which provides high-performance, easy-to-use data structures and data analysis tools for the Python programming language. Python with Pandas technology is widely used in the fields including academic and commercial domains including finance, economics, Statistics, analytics, etc. Pandas is one of the Python packages which provides fast, flexible, and expressive data structures which makes working with "relational" or "labeled" data both easy and intuitive.

Python pandas online test helps recruiters and hiring managers to assess candidate's bot development skills. Online test on Python pandas basics is created & validated by experienced industry experts to assess & hire Python pandas developers as per the industry standards.

Python pandas assessment test helps to screen the candidates who possess traits as follows:

1. Excellent data manipulation skills
2. Ability to work on Python programming
3. Good knowledge of pandas dataframes
4. Experience developing data offerings using custom web applications
5. Solid analytical skills to determine the source and resolution of highly complex problems

Interview Mocha's Python pandas online test has a unique set of questions. You can also create or ask us to create a customized test that includes questions that are specific to your job requirement.

Our powerful reporting helps you to analyze section wise performance of candidate to gauge his strengths and weaknesses. Moreover, you can always use our candidate ranking tool to screen the best performing candidate amongst others.
Good News! You can customize this test as per your requirement
Choose and add questions from Interview Mocha question libraries

Add your own set of questions

Customize test settings like duration, number of questions, passing score, web proctoring and much more

Mail us at support@interviewmocha.com to create a custom test
Looking for a tailor-made test, to suit your assessment needs?
Get in touch
Global companies using Mocha assessments
How Mocha assessments are brewed
Speed up your IT recruitment with Interview Mocha
500+ IT skill tests
20+ coding languages
50+ domain knowledge tests
100+ digital 2.0 skill tests
Customer focus aptitude tests
Enterprise ready features & more...
GET A DEMO
Why hiring managers and recruiters across the globe love Interview Mocha
Take your first step to hire job fit candidates