Online Data Modeling Skills Test
Topics Covered
The Entity-Relationship Model
Introduction to Database Technology
Data Modeling Techniques
Database Lifecycle
Data Objects
Data Warehouse Trends
OLTP and OLAP
Business Intelligence
Useful for hiring
Data Modeler
Data Analyst
Data Scientist
Data Engineer
View Sample Report
Start hiring job-fit candidates using this assessment
GET A DEMO
"The best part of Interview Mocha is they have topic wise questions available. The skill wise extensive reports and advanced analytics lets us measure & benchmark the proficiency level of employees in that particular skill."
Cheryl Tolkinen, Securian, USA,
Learning & Development Manager
Question
The table below shows a relationship for Prince University student database: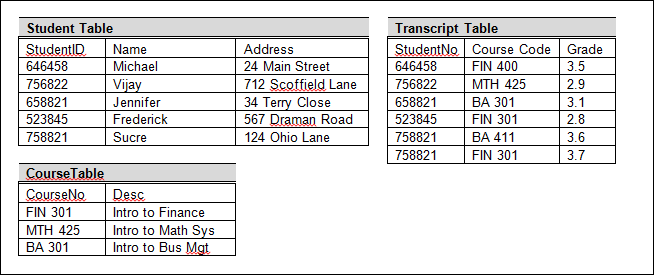 As a user and administrator of the prince university database and certain information are required from you from the database. Which is less likely viable?
Answer
The user of the database should be able to ask for a list of courses taken by a specific student

Ask for a list of students currently enrolled in a specific course

Ask for a list of students currently enrolled in all courses

Ask for a list of students not enrolled in all the courses
Question
As a consultant, you are asked to implement a cost-effective BI tools for your company and you are indecisive as to the best and efficient choice to deploy between traditional BI softwares like MicroStrategy, Business Objects, IBM Cognos and Oracle on the one hand and Open source BI tools, on the other hand, what will be the determinant/deterrent to your choice?
Answer
Open Source BI tools are more flexible in use and can be altered to easily fit user demand

It is more difficult to find consulting help if you go with open source BI

Traditional BI tools are more complex and strategic in implementation

There are a lot of people with traditional BI skills
Question
If the system is satisfying user needs, users will naturally use the system. If not, users will abandon the system, and a data warehousing system with no users is actually a detriment to beck technologies (since resources that can be deployed elsewhere are needed to maintain the system). Therefore, it is very important to have a tracking mechanism to figure out how much/degree of usage by users accessing the data warehouse. This should not be a problem if:
Answer
Third-party reporting/OLAP tools are used, since they all contain this component

The right data warehousing investment is made

All users are compelled to use the system

The beck's boast an abundant stream of resources ready for deployment
Test details:
Data Modeling Interview Test enables employers and recruiters to identify potential data modeler by evaluating working skills and job readiness. For this reason, the emphasis is laid upon evaluating the knowledge of applied skills gained through real work experience, rather than theoretical knowledge.

The test may contain MCQ's (Multiple Choice Questions), MAQ's (Multiple Answer Questions), Fill in the Blank, Descriptive, Whiteboard Questions, Audio / Video Questions, True or False.

Test Details: 20 minutes

10 Application Questions

The combination of Application questions helps to evaluate Technical as well as practical Skills of Candidates.
Test description:
Data Modeling Online Test helps Recruiters & Hiring Managers to effectively assess the skills of the Data Modeler before an interview. Data Modeling in software engineering is the process of creating a data model for an information system by applying certain formal techniques. It is used to define and analyze data requirements needed to support the business processes. This Online Data Modeling Quiz is designed to check the development and programming skills of Data Modeling Developer - As per Industry Standards.

Data Modeling Skills Test contains questions on following Topics:

The Entity-Relationship Model

Introduction to Database Technology

Data Modeling Techniques

Database Lifecycle

Data Objects

Data Warehouse Trends

OLTP and OLAP

Business Intelligence

This assessment test on Data Modeling concepts is designed & validated by our experienced subject matter experts (SME)s to evaluate the candidate's knowledge about creating the data model, defining and analyzing the requirements of data before hiring. Using powerful reporting, you can have a detailed analysis of the test results to help you make a better hiring decision and predict the candidate's performance.

Good News! You can customize this test as per your requirement
Choose and add questions from Interview Mocha question libraries

Add your own set of questions

Customize test settings like duration, number of questions, passing score, web proctoring and much more

Mail us at support@interviewmocha.com to create a custom test
Looking for a tailor-made test, to suit your assessment needs?
Get in touch
Global companies using Mocha assessments
How Mocha assessments are brewed
Speed up your IT recruitment with Interview Mocha
500+ IT skill tests
20+ coding languages
50+ domain knowledge tests
100+ digital 2.0 skill tests
Customer focus aptitude tests
Enterprise ready features & more...
GET A DEMO
Why hiring managers and recruiters across the globe love Interview Mocha
Take your first step to hire job fit candidates