Basic Excel Test for Interview
Topics Covered
Find and Select
Data Validation
Keyboard Shortcuts
Chart Formatting
If
Large
And
Date value
Sum
Rept
Concatenate
Aggregate
Useful for hiring
Office Administrator
Entry Level Graduates
Office Secretary
Administrative Assistant
View Sample Report
Start hiring job-fit candidates using this assessment
GET A DEMO
"We are impressed with Interview Mocha's comprehensive IT skill test batteries and their ability to provide tailor-made assessments quickly. The results we got from Interview Mocha exceeded our expectations, employees found the tests quick, fun, and a benchmark of their knowledge."
Ajay Garg, Siemens,
Associate Manager
Question
Which of the following result will be displayed in Cell C3 if the function =RANK.EQ(B3,$B$3:$B$14) is used at C3?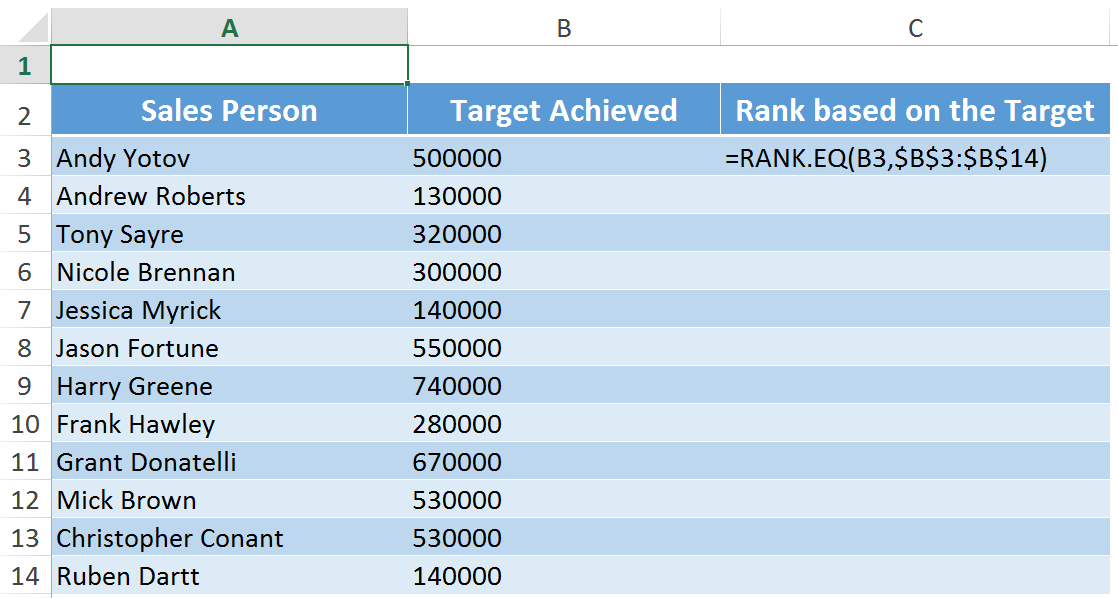 Answer
Error. Function name should be Rank not Rank.EQ

Question
Which of the listed functions will give you the largest sales figure, ignoring hidden rows and error values?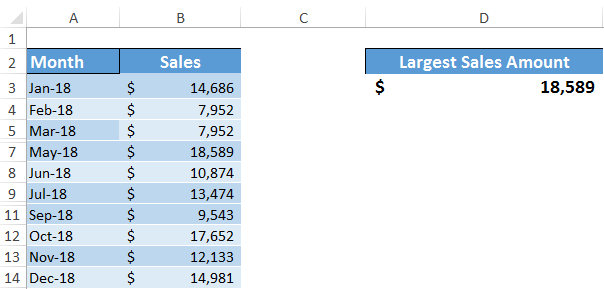 Answer
=AGGREGATE(13,1,B3:B14,1)



=AGGREGATE(14,7,B3:B14,1)



=AGGREGATE(B3:B14,1,14,7)



=AGGREGATE(1,B3:B14,14,7)

Test details:
This 20 minute Excel skills test enables employers and recruiters to identify potential hires with excellent Excel skills by evaluating their working skills and job readiness. For this reason, the emphasis is laid upon evaluating the knowledge of applied skills gained through real work experience, rather than theoretical knowledge.

The basic Excel test may contain MCQ's (Multiple Choice Questions), MAQ's (Multiple Answer Questions), Fill in the Blank, Descriptive, Whiteboard Questions, Audio / Video Questions, True or False.

Test Duration: 20 minutes
Questions: 10

The Excel basics test contains a combination of application and theory questions.
Test description:
Excel is mainly used as a reporting tool and let you do the calculations automatically. Working knowledge of MS Excel is required in many entry-level or office administration job roles for maintaining and analyzing the data. Excel executive should be able to perform basic functions like sum, count, cell formatting, data conversion, simple formulae, and workbook.

Our basic Excel interview test is created & validated by experienced subject matter experts (SMEs) to assess skills of the candidates as per industry standards. Basic Excel test for an interview helps recruiters in evaluating the candidate's ability to successfully apply his basic Excel skills to perform tasks related to workbooks and data entry in MS Excel.

The Excel basic test contains questions on following topics:
Find and Select

Data Validation

Keyboard Shortcuts

Chart Formatting

If, Large, And

Datevalue

Sum, Rept

Concatenate, Aggregate

Our score report helps to select the candidate who is the right fit for the job that requires basic knowledge of the Excel. It helps the recruiter to determine whether the applicants can use workbooks efficiently and can get along well on any projects without organization training. The basic Excel assessment test reports are automated and provide a detail, analytical view of each candidate.
Good News! You can customize this test as per your requirement
Choose and add questions from Interview Mocha question libraries

Add your own set of questions

Customize test settings like duration, number of questions, passing score, web proctoring and much more

Mail us at support@interviewmocha.com to create a custom test
Looking for a tailor-made test, to suit your assessment needs?
Get in touch
Global companies using Mocha assessments
How Mocha assessments are brewed
Speed up your IT recruitment with Interview Mocha
500+ IT skill tests
20+ coding languages
50+ domain knowledge tests
100+ digital 2.0 skill tests
Customer focus aptitude tests
Enterprise ready features & more...
GET A DEMO
Why hiring managers and recruiters across the globe love Interview Mocha
Take your first step to hire job fit candidates