Advanced Excel Online Test
Topics Covered
Chart Formatting
If
Large
And
Datevalue
Sum
Rept
Concatenate
Aggregate
Substitute
Choose
VLOOKUP
INDEX
MATCH
Useful for hiring
Excel Expert with 3 to 4 yrs experience
Microsoft Office Specialist
Office Manager
View Sample Report
Start hiring job-fit candidates using this assessment
GET A DEMO
"Finding quality talent is a challenge more so when you consider the sheer number of resumes we get each year. To top this, the time we spent on our recruitment process was humongous. Interview Mocha helped us to cut down on our candidate filtration time by 40%, making it our preferred assessment tool."

Pedro Furtado, Altran,
Capacity Manager
Question
Which of the following result will be displayed in Cell C3 if the function =RANK.EQ(B3,$B$3:$B$14) is used at C3?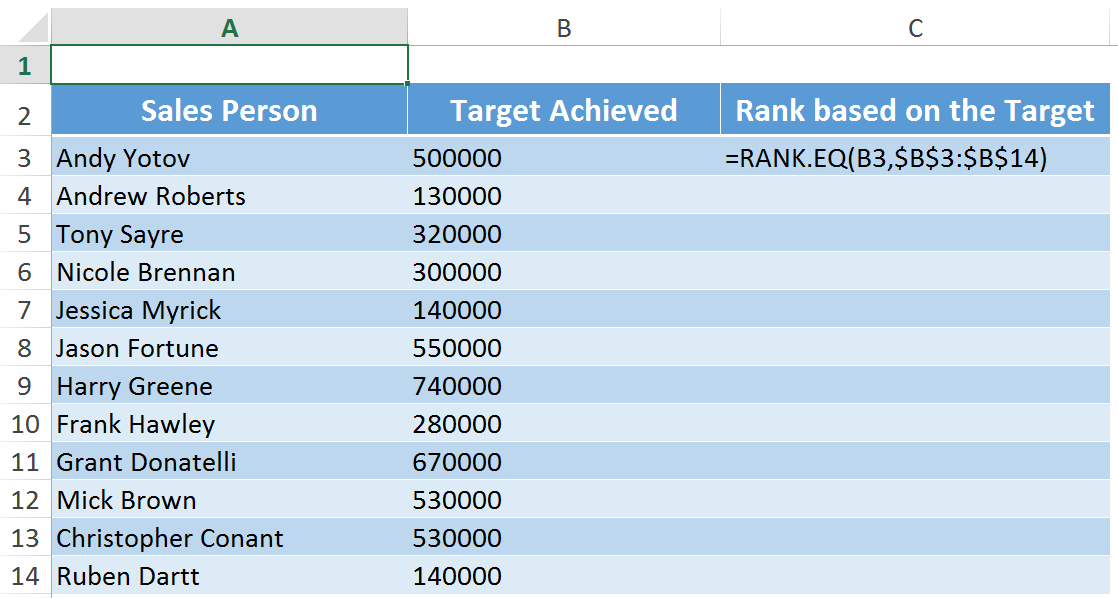 Answer
Error. Function name should be Rank not Rank.EQ

Question
Which of the following functions will help you dynamically to extract the name based on the serial number mentioned in Cell A13?



Answer
=CHOOSE(A13,D2,D3,D4,D5,D6,D7,D8,D9,D10)

Test details:
This advanced Excel online test enables employers to identify & hire Excel experts effectively and efficiently.

The Excel proficiency test may contain MCQ's (Multiple Choice Questions), MAQ's (Multiple Answer Questions), Fill in the Blank, Descriptive, Whiteboard Questions, Audio / Video Questions, True or False.
No. of Questions: 20

Test Duration: 20 minutes

The online advanced excel test contains a combination of application and theory questions.
Test description:
Many domains such as accounting, finance, data analysis, that involves a large amount of data, database are in a constant need of professionals who have expertise in Microsoft Excel. Excel Expert should be able to implement complex functions, advanced formulae, Macros as well as VBA programming to curate, analyze, and create reports of important information.

Advanced Microsoft Excel Online Test is designed and developed by global subject matter experts (SMEs) to assess advanced Excel skills of the candidates as per industry standards. Our online Microsoft Excel proficiency test helps hiring managers to effectively assess the proficiency of candidates in MS Excel.

Microsoft Excel advance test contains questions on following topics:
Worksheet and Charts

Operators

Functions

Formulas

Tool Bars

Shortcut Keywords
The online advanced excel test reports give you the detailed hiring analytics and you will surely get to know how the candidate deals with problem-solving using Excel and whether he has that ability to turn huge volume of data into fruitful information. We also provide the percentile results that let you know how well the candidate has performed with respect to other candidates.
Good News! You can customize this test as per your requirement
Choose and add questions from Interview Mocha question libraries

Add your own set of questions

Customize test settings like duration, number of questions, passing score, web proctoring and much more

Mail us at support@interviewmocha.com to create a custom test
Looking for a tailor-made test, to suit your assessment needs?
Get in touch
Global companies using Mocha assessments
How Mocha assessments are brewed
Speed up your IT recruitment with Interview Mocha
500+ IT skill tests
20+ coding languages
50+ domain knowledge tests
100+ digital 2.0 skill tests
Customer focus aptitude tests
Enterprise ready features & more...
GET A DEMO
Why hiring managers and recruiters across the globe love Interview Mocha
Take your first step to hire job fit candidates