Data Analyst Excel Test
Topics Covered
MS Excel Advance
Numerical Reasoning
View Sample Report
Start hiring job-fit candidates using this assessment
GET A DEMO
"Finding quality talent is a challenge more so when you consider the sheer number of resumes we get each year. To top this, the time we spent on our recruitment process was humongous. Interview Mocha helped us to cut down on our candidate filtration time by 40%, making it our preferred assessment tool."

Pedro Furtado, Altran,
Capacity Manager
Question
Consider below graph: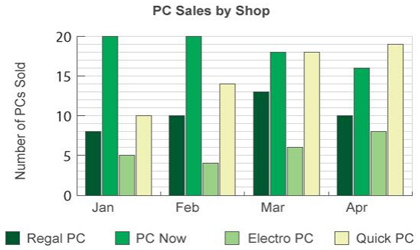 If the average profit made on each PC sold by Quick PC was $62, what was the total profit over the four months for Quick PC?
Question
Take a look at the chart given here, the data is very uneven. How will you convert the jagged line into a smoothed line?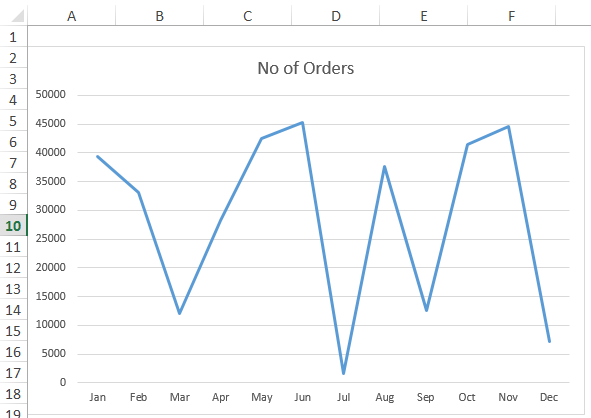 Answer
Right click on the chart and click on "Smoothen Line"

Click on the line, select Format Line, Choose the Fill option, tick the Smoothed Line option.

Click on the line, select Format Data Series, Choose the Line and Fill option, tick the Smoothed Line option.

Click on the line, Go to the format tab and tick the Smoothed Line Option
Test details:
Data analysis assessment test will evaluate a candidate's practical knowledge and will identify whether the candidate is ready to be employed. Data analyst interview test can be taken by the candidate from anywhere in the comfort of their time zone.

Data analyst skills test may contain MCQ's (Multiple Choice Questions), MAQ's (Multiple Answer Questions), Fill in the Blank, Descriptive, Whiteboard Questions, Audio / Video Questions, True or False.

Test Details: 20 minutes

10 Application Questions
Test description:
Data analysis is a process in which inspecting, transforming, cleaning and modeling the data takes place. With the help of this data, we can make the goal of discovering useful information, suggesting conclusions and supporting decision-making. In the process of Data Analysis, excessive use of MS Excel is done for preparing charts, tables, professional reports and various other data analysis functions. MS Excel, therefore, acts as the powerful tool for making better decisions.
Data analyst excel test helps recruiters and hiring managers to assess candidate's analytical and critical skills while working with excel data. Interview Mocha's excel test for data analyst position is created & validated by experienced subject matter experts (SMEs) to assess & hire data analyst as per industry standards. Moreover, this data analysis skills test in Excel contains case study and scenario-based questions that provide insights of candidate's practical knowledge.
Data analyst assessment test in Excel helps you to screen the candidates who possess traits as follows:
1.
Strong analytical and numerical reasoning skills
2.
Working knowledge of various excel functions and formulae
3.
Excellent ability to work upon excel advance charting
4.
Knowledge of worksheets, number series, charts & operators
Interview Mocha's data analysis interview test has a unique set of questions. You can also create or ask us to create a customized test that includes questions which are specific to your job-requirement.
Our powerful reporting helps you to analyze section wise performance of candidate to gauge his strengths and weaknesses. Moreover, you can always use our candidate ranking tool to screen the best performing candidate amongst others.
Good News! You can customize this test as per your requirement
Choose and add questions from Interview Mocha question libraries

Add your own set of questions

Customize test settings like duration, number of questions, passing score, web proctoring and much more

Mail us at support@interviewmocha.com to create a custom test
Looking for a tailor-made test, to suit your assessment needs?
Get in touch
Global companies using Mocha assessments
How Mocha assessments are brewed
Speed up your IT recruitment with Interview Mocha
500+ IT skill tests
20+ coding languages
50+ domain knowledge tests
100+ digital 2.0 skill tests
Customer focus aptitude tests
Enterprise ready features & more...
GET A DEMO
Why hiring managers and recruiters across the globe love Interview Mocha
Take your first step to hire job fit candidates