AutoCAD Online Test
Topics Covered
TRIM Command
3D Polyline Functions
Polysolid
MLINE
World Coordinate System
ISOLINES
Useful for hiring
AutoCAD Engineer
AutoCAD Mechanical Engineer
AutoCAD Design Engineer
AutoCAD Specialist
View Sample Report
Start hiring job-fit candidates using this assessment
GET A DEMO
"We realized that to acquire quality talent, our recruitment process was in dire need of automation. Too many of our technicalteam were simply wasting hours conducting interviews that did not yield the desired results. For us the foremost criteria were to finda recruitment partner who could tick all the right boxes"

Rehana Nisar, Gartner,
Global Product & Services Recruitment Head
Question
In AutoCAD, you can refer an object to a file or website URL using a hyperlink. Suppose you need to add multiple links to manufacturer's website, contact email, specification documents, etc. in order to make them easily accessible for you by simply clicking the link.
Which of the following method is most suitable one for this purpose?
Answer
Adding hyperlink to an AutoCAD object inside the block

Adding hyperlink to AutoCAD block after placing it

Using attributes and fields
Question
Suppose there are two users X and Y. Both are using AutoCAD Civil 3D with the default pipe network catalog path.
User X modifies an existing part A and uses the part in Drawing 1. The name of part A is not changed.
User Y wants to edit Drawing 1 on her computer, and parts required for it are needed to be referenced from the catalog. Part A is found and used, but it is the default part A, not the modified one. As a result, it does not include the changes made by user X.

Which of the following solutions can be adopted by User X in order to prevent or recover from this unexpected change?
Answer
By sending the modified part to the catalog manager with a different name

By sending the existing part to the catalog manager with a common name

By sending the existing part to the catalog manager with a different name

By asking the catalog manager to distribute the modified part to User Y and others from the AutoCAD standard library with a common name
Question
Consider the image given below: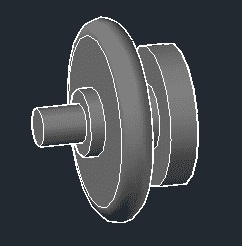 Which of the following commands can be used most efficiently in the process to create the respective shape?
Test details:
AutoCAD proficiency test enables employers and recruiters to identify potential hires by evaluating working skills and job readiness. For this reason, the emphasis is laid upon evaluating the knowledge of applied skills gained through real work experience, rather than theoretical knowledge.

The test may contain MCQ's (Multiple Choice Questions), MAQ's (Multiple Answer Questions), Fill in the Blank, Descriptive, Whiteboard Questions, Audio / Video Questions, True or False.

Test Duration: 30 minutes

20 Application Questions
Test description:
AutoCAD is application-based software which is used for 2D and 3D computer-aided layout (CAD). It is mainly a vector-based drawing application mostly used for engineering purposes. It also supports the recognized format called DXF. It helps to speed up the work through its various tools and design. AutoCAD assessment test is being designed to assess the candidates in the area of AutoCAD System Design, 3D Modeling, Project Leading, Layout Design, Structural Designing, AutoCAD Operator Designing, etc.

Our AutoCAD assessment test helps recruiters and hiring managers to effectively assess the AutoCAD skills of a candidate before an interview. Our AutoCAD skills test is created & validated by global subject matter experts (SME)s to assess expertise of AutoCAD engineer as per industry standards.

The AutoCAD assessment test contains questions on following topics:

TRIM Command

3D Polyline Functions

Polysolid

MLINE

World Coordinate System

ISOLINES

Through AutoCAD online test reports you will have a detailed analysis of test results to help you make better decisions and predict candidate and employee success.
Good News! You can customize this test as per your requirement
Choose and add questions from Interview Mocha question libraries

Add your own set of questions

Customize test settings like duration, number of questions, passing score, web proctoring and much more

Mail us at support@interviewmocha.com to create a custom test
Looking for a tailor-made test, to suit your assessment needs?
Get in touch
Global companies using Mocha assessments
How Mocha assessments are brewed
Speed up your IT recruitment with Interview Mocha
500+ IT skill tests
20+ coding languages
50+ domain knowledge tests
100+ digital 2.0 skill tests
Customer focus aptitude tests
Enterprise ready features & more...
GET A DEMO
Why hiring managers and recruiters across the globe love Interview Mocha
Take your first step to hire job fit candidates