Adobe illustrator Online Skills Test
Topics Covered
Snapping
Applying Effects
Text effects
Converting image
Filtering
Blending objects
Shaping objects
Adding Texture
Image slice
Creating own library
Illustrator workflow
Filter image
Object fill
Working with filter
Object attributes
Masking
Clipping
Useful for hiring
Graphics Designer
Web Designer
Adobe Illustrator Designer
Illustrator Experts
View Sample Report
Start hiring job-fit candidates using this assessment
GET A DEMO
"Interview Mocha has provided UNEECOPS with a veritable assessment platform with a comprehensive test library, online test platform, and intelligent reports. This made it easier for us to map different job openings with job-fit candidates and recruit faster."
Nisha Chandila, UNEECOPS,
Talent Acquisition Manager
Question
Since you carry out very niche work on Illustrator, you need to have your own library of custom Brushes and Swatches. Which of the following steps should be followed to create your own Brushes and Swatches and saving it to the library?

Note: There can be multiple correct answers to this question.
Answer
Create the Image -> Drag and Drop Image into Swatch Library -> Save them by clicking on top right corner arrow -> Save Library

Create the Image -> Drag and Drop Image into Swatch Library -> Save them by clicking on top right corner arrow -> Save Library

Create Image -> Select and drop into Graphic Style -> Save

Select the brush tool -> Select Brush Definition -> Select New Brush option -> Select Brush Type -> Create New Brush
Question
You have an existing artboard in Illustrator. However you are unhappy with the size and want to change it. Which of the following is the most efficient way to change the size of the existing artboard?

Note: There can be multiple correct answers to this question.
Question
Suppose a sketch style image is given, which is a scanned image as shown in the left figure. In order to provide the image feel like sketchy or hand-drawn with the color effects like the image on the right, which of the following tool(s) take the major role?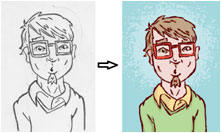 Note: There can be multiple correct answers to this question.
Test details:
Identify & hire Adobe Illustrator designers by evaluating working skills and job readiness. In this online adobe illustrator skills test, an emphasis is laid upon evaluating the knowledge of applied skills gained through real work experience, rather than theoretical knowledge.

The online illustrator test contains MCQ's (Multiple Choice Questions), MAQ's (Multiple Answer Questions), Fill in the Blank, Descriptive, True or False.

Test Details: 20 minutes

20 Application Questions

This Illustrator online test contains the combination of application and theory questions that helps you to evaluate technical as well as practical skills of candidates.
Test description:
The Adobe Illustrator Test has been designed and developed to help employers and recruiters to evaluate the Adobe Illustrator skills of candidates before hiring or recruiting.

User Experience Design (UXD or UED) is the process of enhancing user satisfaction by improving the usability, accessibility provided in the interaction between the user and the product. Adobe Illustrator tool is used to create the user experience design. Adobe Illustrator CC is the latest industry standard design suite used to create vector graphics, logos, sketches, typography efficiently.

Adobe Illustrator skills test is created & validated by global subject matter experts (SME)s to assess & hire Adobe Illustrator designers – as per industry standards.

Adobe Illustrator CC online test contains questions on following Topics:

Snapping

Applying Effects

Text effects

Converting image

Filtering

Blending objects

Shaping objects

Adding Texture

Image slice

Creating own library

Illustrator workflow

Filter image

Object fill

Working with filter

Object attributes

Masking

Clipping

Powerful reports will be generated within the 15 minutes of test attempt. It gives you the detailed hiring analytics of Adobe Illustrator quiz test that helps in analyzing the technical skills related strengths & weaknesses of the candidates.
Good News! You can customize this test as per your requirement
Choose and add questions from Interview Mocha question libraries

Add your own set of questions

Customize test settings like duration, number of questions, passing score, web proctoring and much more

Mail us at support@interviewmocha.com to create a custom test
Looking for a tailor-made test, to suit your assessment needs?
Get in touch
Global companies using Mocha assessments
How Mocha assessments are brewed
Speed up your IT recruitment with Interview Mocha
500+ IT skill tests
20+ coding languages
50+ domain knowledge tests
100+ digital 2.0 skill tests
Customer focus aptitude tests
Enterprise ready features & more...
GET A DEMO
Why hiring managers and recruiters across the globe love Interview Mocha
Take your first step to hire job fit candidates