Tibco Business Studio (BS) Online Assessment Test
Topics Covered
Tibco iProcess Workspace Client
Tibco iProcess Engine Development Server
Tibco Business Studio Basic Data Type
Tibco Business Studio Form
Tibco iProcess Script
Useful for hiring
Tibco Developer- Business Studio
Tibco Consultant- Business Studio
View Sample Report
Start hiring job-fit candidates using this assessment
GET A DEMO
"We are impressed with Interview Mocha's comprehensive IT skill test batteries and their ability to provide tailor-made assessments quickly. The results we got from Interview Mocha exceeded our expectations, employees found the tests quick, fun, and a benchmark of their knowledge."
Ajay Garg, Siemens,
Associate Manager
Question
Which type of data field corresponds to a dynamically addressed participant?
Question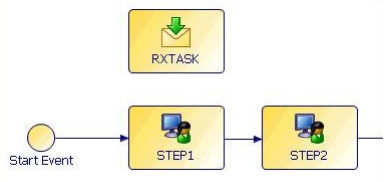 In the exhibit, STEP1 is outstanding. What is the purpose of RXTASK?
Answer
to move the case to STEP2
Question
During the testing of a process through the TIBCO iProcess Workspace (Browser) Client, you notice that some data fields are not being populated in the TIBCO iProcess Engine. Which two steps can be used to debug the form?

Note: There can be multiple correct answers to this question.
Answer
ensure that the data fields' types are supported by the iProcess engine

use the form preview to test if all the parameters are being posted by the form

ensure that the fields are configured to be an output type under the data model of the form

ensure that all the form fields are mapped correctly on the field properties page of the form
Test details:
Tibco Business Studio Pre hiring Test enables employers and recruiters to identify right fit candidate by evaluating working skills and job readiness. For this reason, the emphasis is laid upon evaluating the knowledge of applied skills gained through real work experience, rather than theoretical knowledge.

Test Details: 20 minutes

15 Application Questions

05 Theory Questions


The combination of Application and Theory questions helps to evaluate Technical as well as practical Skills of Candidates.
Test description:
Tibco Business Studio Online Test helps Recruiters & Hiring managers to assess the skills of a candidate for TIBCO Business Studio before an interview. Tibco Business Studio (BS) is a free, standard-based business process modeling environment that enables business experts to model and design. Tibco Business Studio skills test specially designed to check the application and business skills of a Tibco Business Studio developer – as per Industry Standards.

Tibco Business Studio Assessment Test contains questions on following Topics:

Tibco iProcess Workspace Client

Tibco iProcess Engine Development Server

Tibco Business Studio Basic Data Type

Tibco Business Studio Form

Tibco iProcess Script

This Tibco Business Studio interview test is designed by our subject matter experts to evaluate knowledge of candidate about TIBCO Business Studio. Using powerful reporting, you can have a detailed analysis of the test results to help you make a better hiring decision and predict the candidate's performance.

The test contains MCQ's (Multiple Choice Questions), MAQ's (Multiple Answer Questions), Fill in the Blank, Descriptive, True or False.
Good News! You can customize this test as per your requirement
Choose and add questions from Interview Mocha question libraries

Add your own set of questions

Customize test settings like duration, number of questions, passing score, web proctoring and much more

Mail us at support@interviewmocha.com to create a custom test
Looking for a tailor-made test, to suit your assessment needs?
Get in touch
Global companies using Mocha assessments
How Mocha assessments are brewed
Speed up your IT recruitment with Interview Mocha
500+ IT skill tests
20+ coding languages
50+ domain knowledge tests
100+ digital 2.0 skill tests
Customer focus aptitude tests
Enterprise ready features & more...
GET A DEMO
Why hiring managers and recruiters across the globe love Interview Mocha
Take your first step to hire job fit candidates