Online Typography Quiz Test
Topics Covered
Font family
Typography best practices
Typeface
Selection
and Pairing
Aliasing and Anti-aliasing
Graphic design
Basics of Typography
Graphic design
Applied Typography Fundamentals
Best practices
Principles of Grouping
Usage
Typefaces
Useful for hiring
Typography Designers
Typography Expert
Graphic Designer - Typography
UI Designer - Typography
Typographer
View Sample Report
Start hiring job-fit candidates using this assessment
GET A DEMO
"We are impressed by the caliber, depth, and breadth of the assessments provided by Interview Mocha. With Interview Mocha's online proctoring & powerful reports, we are able to hire quality candidates overcoming geographical barriers."
Megan Akhras, J'Excelle,Canada,
Co-founder & director
Question
X is writing the heading of a book called 'Old New'. X has been given a requirement that he has to use different typefaces for the two parts of the title because it depicts the storyline of the book. X chooses 'Baskerville' and 'Futura' for the purpose. Which of the following is the most likely reason for the selection made by X?



Answer
Typefaces with structures made on similar geometric principles go well together

The two typefaces are made by the same designer. So they have similar strokes and curves and hence they go well with each other.

A transitional typeface with a modern typeface creates a sense of juxtaposition
Question
Shown are few horizontal lines in a typography. Can you figure out what do a,b,c,d,e represent?



Answer
a: Cap line, b: Baseline, c: X-height, d: Ascender height, e: Beardline

a: Breadline, b: X-height, c: Baseline, d: Ascender height, e: Cap line

a: Breadline, b: X-height, c: Capline, d: Ascender height, e: Base line

a: Cap line, b: Baseline, c: Ascender height, d: X-height, e: Beardline
Question
Among the given figures (1 & 2), what is the marked ones (circled and red filled space) called?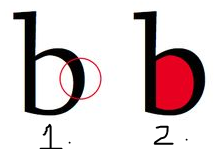 Test details:
Identify potential Typographers by evaluating working skills and job readiness of the applicants using our scientifically designed Typography assessment test.

The test contains MCQ's (Multiple Choice Questions), MAQ's (Multiple Answer Questions), Fill in the Blank, Descriptive, True or False.

Test Details: 20 minutes

10 Application Questions

This Typography test contains the combination of application and theory questions that helps you to evaluate technical as well as practical skills of candidates.
Test description:
Typography Test has been designed & validated by experienced Subject Matter Experts (SME)s to assess Typography skills of Typography designers - as per Industry Standards.

Typography is a technique of arranging type to make written language legible, readable and appealing when displayed. The arrangement of type involves selecting typefaces, point sizes, line lengths, line spacing (leading), and letter-spacing (tracking), and adjusting the space between pairs of letters.

The Typography quiz test helps recruiters & hiring managers to screen candidates who have excellent Typographic skills before hiring.


Typography skills test contains questions on:

Font family, Typography best practices, Typeface
Selection, and Pairing, Aliasing and Anti-aliasing, Graphic design
Basics of Typography, Graphic design, Applied Typography Fundamentals
Best practices, Principles of Grouping, Usage, Typefaces

Our intelligent reports will provide you with the detailed hiring analysis of the Typography online test results to help you make a better hiring decision and predict the candidate's performance.
Good News! You can customize this test as per your requirement
Choose and add questions from Interview Mocha question libraries

Add your own set of questions

Customize test settings like duration, number of questions, passing score, web proctoring and much more

Mail us at support@interviewmocha.com to create a custom test
Looking for a tailor-made test, to suit your assessment needs?
Get in touch
Global companies using Mocha assessments
How Mocha assessments are brewed
Speed up your IT recruitment with Interview Mocha
500+ IT skill tests
20+ coding languages
50+ domain knowledge tests
100+ digital 2.0 skill tests
Customer focus aptitude tests
Enterprise ready features & more...
GET A DEMO
Why hiring managers and recruiters across the globe love Interview Mocha
Take your first step to hire job fit candidates