Online Corel Draw Test
Topics Covered
Image Adjustment
Text Alignment
Text Placement on a Path
Logo Design
Bitmapped Image Editing
Special Effects
Working with Drop Shadow
Image Positioning
Image Mapping
PDF preset Identification
Special Effects
Shaping Commands
Sliders
Vector Shapes
Pathfinder Tool
Exporting Files
Gradient Fill
Useful for hiring
Graphics Designer
Web Designer
Designer Illustrator
View Sample Report
Start hiring job-fit candidates using this assessment
GET A DEMO
"The best part of Interview Mocha is they have topic wise questions available. The skill wise extensive reports and advanced analytics lets us measure & benchmark the proficiency level of employees in that particular skill."
Cheryl Tolkinen, Securian, USA,
Learning & Development Manager
Question
You need to obtain variants of black and white gradients. Given is a set of possible methods that may assist in doing so. Choose the ones which can help obtain multiple transparency gradients on one object.

Note: There can be multiple correct answers to this question.
Answer
Use mesh fill to change the color as well as transparency of the node.

Use a bitmap as a pattern that you need transparent.

Stalk objects with different blending modes.
Question
You are given the image on the left-hand side as an input and you have to convert it into an image on the right-hand side. Given are the steps to do that in jumbled order. Arrange them in a logical order and mark the appropriate option.

1. Select object with Transparency
2. Open the Lens Docker
3. Select the No Lens Effect In drop down menu
4. Click Apply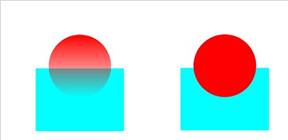 Question
You have used CorelDraw to design a cross. Now when you try to apply contour to it and post processing, you see that the corners are not exactly the way you want. So you select an option that gives you the desired outcome as shown in the image. Which of the following option have you most likely selected to obtain such a corner?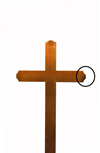 Test details:
Online Corel Draw quiz test enables employers to identify potential hires. Therefore, an emphasis is laid upon evaluating the knowledge of applied skills gained through real work experience rather than theoretical knowledge.

The CorelDraw quiz test contains MCQ's (Multiple Choice Questions), MAQ's (Multiple Answer Questions), Fill in the Blank, Descriptive, True or False.

Test Details: 20 minutes

10 Application Questions

This CorelDraw test contains the combination of application and theory questions that helps you to evaluate practical skills of candidates.
Test description:
Online Corel Draw Test has been specially designed & validated by Subject Matter Experts (SME)s to assess the graphics designing skills of designers - as per Industry Standards.

CorelDraw is a vector graphics editor developed and marketed by Corel Corporation. It is a Corel's Graphics Suite, which bundles CorelDraw with bitmap image editor Corel Photo-Paint as well as other graphics-related programs. It helps designers to create high caliber designs from test & graphics.

The Corel Draw quiz test helps recruiting teams & hiring managers to check the candidate's knowledge of designing with CorelDraw before hiring.

Corel Draw test assessment contains questions on following Topics:

Image Adjustment

Text Alignment

Text Placement on a Path

Logo Design

Bitmapped Image Editing

Special Effects

Working with Drop Shadow

Image Positioning

Image Mapping

PDF preset Identification

Special Effects

Shaping Commands

Sliders

Vector Shapes

Pathfinder Tool

Exporting Files

Gradient Fill
Weed out irrelevant candidates using our scientifically designed CorelDraw skills test & spend time interviewing only relevant candidates. Our hiring analytics will provide you the detailed analysis of skills related strengths & weaknesses of the candidates that will help you in making better hiring decisions.
Good News! You can customize this test as per your requirement
Choose and add questions from Interview Mocha question libraries

Add your own set of questions

Customize test settings like duration, number of questions, passing score, web proctoring and much more

Mail us at support@interviewmocha.com to create a custom test
Looking for a tailor-made test, to suit your assessment needs?
Get in touch
Global companies using Mocha assessments
How Mocha assessments are brewed
Speed up your IT recruitment with Interview Mocha
500+ IT skill tests
20+ coding languages
50+ domain knowledge tests
100+ digital 2.0 skill tests
Customer focus aptitude tests
Enterprise ready features & more...
GET A DEMO
Why hiring managers and recruiters across the globe love Interview Mocha
Take your first step to hire job fit candidates