Java Full Stack Developer Skill Test
Topics Covered
Strings and Regular Expressions
Template Literals
Burndown Chart
Self-Managing Teams
Java 8 - Generics
Request mapping
Exception Handling
Collections
Useful for hiring
Full Stack Java Developer
View Sample Report
Start hiring job-fit candidates using this assessment
GET A DEMO
"Interview Mocha's assessments eliminated reliance on resumes and reduced our time to hire by half. Now we spend time only on relevant candidates and take data-driven hiring decisions."
George Nichkov, Gett,
Global Analytics Team Lead
Question
Predict the correct output for the given code snippet against the given parameters.

foo( null, 6 );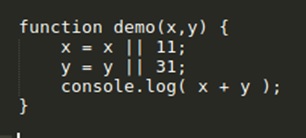 Question
You want to produce a Stream from the entries in a directory. You also want the listing to be recursive and to a depth level of your choosing. Which of these classes in File Class are you likely to be used by you in this scenario?
Test details:
Java full stack developer pre-employment test will evaluate the candidate's practical knowledge and will identify whether the candidate is ready to be employed. Java full stack developer skills test can be used to benchmark the proficiency level of candidates in full stack development.

Full stack Java development test may contain MCQ's (Multiple Choice Questions), MAQ's (Multiple Answer Questions), Fill in the Blank, Descriptive, Whiteboard Questions, Audio / Video Questions, True or False.

Test Duration: 65 minutes
Questions: 22

Test description:
A full stack developer is an engineer who has the ability to handle all the tasks of databases, servers, systems engineering, and clients. Full stack Java developer has the understanding of multi-tier web application architecture with appropriate levels of abstraction within various architectural layers. He/she is able to evaluate the business requirements to determine most appropriate technical architecture and design patterns by implementing high performance and scalable enterprise.
Java full stack developer skill test helps to hire managers & recruiters to find the best suitable candidate by assessing his/her ability to work on both front end and back end development. Full stack Java web developer test questions are designed & validated by subject matter experts (SMEs) to assess & hire full stack Java developer as per the industry standards.
Java full stack developer skills test helps to screen the candidates who possess traits as follows:
1.
Excellent experience of working on Java and Node.js
2.
Knowledge of Spring MVC and Spring core
3.
Ability to work with RESTful web services, Javascript, jQuery, Ajax, JSON, HTML, CSS
4.
Strong experience of working with Angular 4
5.
Proficient knowledge of deploying on Linux preferred
6.
Knowledge of Oracle database and PL/SQL
7.
Familiarity with the development methodologies like Agile SCRUM
Interview Mocha's powerful reporting & intelligent analytics will help you overview candidate's performance in each section within a glance. Candidate feedback module will ensure candidates are having excellent experience with Interview Mocha.
Full stack Java web developer test contains latest & quality set of scenario-based questions to assess the operating experience of the candidate. Moreover, you can add your own questions as per the job requirement.
Good News! You can customize this test as per your requirement
Choose and add questions from Interview Mocha question libraries

Add your own set of questions

Customize test settings like duration, number of questions, passing score, web proctoring and much more

Mail us at support@interviewmocha.com to create a custom test
Looking for a tailor-made test, to suit your assessment needs?
Get in touch
Global companies using Mocha assessments
How Mocha assessments are brewed
Speed up your IT recruitment with Interview Mocha
500+ IT skill tests
20+ coding languages
50+ domain knowledge tests
100+ digital 2.0 skill tests
Customer focus aptitude tests
Enterprise ready features & more...
GET A DEMO
Why hiring managers and recruiters across the globe love Interview Mocha
Take your first step to hire job fit candidates