Online DB2 SQL Developer Programming Test
Topics Covered
IBM DB2 SQL statements
Stored Procedures
SQL External Functions
SQL Data Modification
Useful for hiring
DB2 SQL Developer
DB2 Mainframe Developer
IBM DB2 Administrator
View Sample Report
Start hiring job-fit candidates using this assessment
GET A DEMO
"The best part of Interview Mocha is they have topic wise questions available. The skill wise extensive reports and advanced analytics lets us measure & benchmark the proficiency level of employees in that particular skill."
Cheryl Tolkinen, Securian, USA,
Learning & Development Manager
Question
Which statement can be used to declare a variable inside an SQL procedure that can be used to represent a monetary value?
Answer
DECLARE v_money DECIMAL(9,2);

DECLARE v_money CURRENCY;
Question
Given the following statements: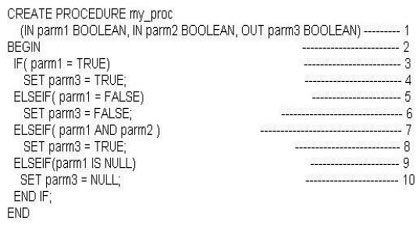 In the above-given procedure, the statement in which line is not valid?
Question
Which code fragment illustrates the proper way to capture and save SQL error handler values so they can be used to control procedure logic?
Answer
DECLARE CONTINUE HANDLERFOR SQLEXCEPTION, SQLWARNING, NOT FOUND SET retcode = SQLCODE;

DECLARE ERROR HANDLER FOR SQLEXCEPTION, SQLWARNING, NOT FOUND SET retcode = EXCEPTION;

DECLARE ERROR HANDLING SQLEXCEPTION, SQLWARNING, NOT FOUND SET retcode = SQLERRN;

DECLARE ERROR HANDLING FOR SQLEXCEPTION, SQLWARNING, NOT FOUND SET retcode = SQLMSG;
Test details:
DB2 SQL coding test enables employers and recruiters to identify potential hires by evaluating working skills and job readiness. For this reason, the emphasis is laid upon evaluating the knowledge of applied skills gained through real work experience, rather than theoretical knowledge.

Test Details: 20 minutes

19 Application Questions


The combination of Application and Theory questions helps to evaluate Technical as well as practical Skills of Candidates.
Test description:
DB2 SQL developer test helps Hiring Managers & Recruiting Team to assess the SQL database skills of candidates before an interview. DB2 SQL programming test is designed to check the application and SQL programming skills of DB2 SQL developer- as per industry standards.

The IBM DB2 SQL Assessment test contains questions on following Topics:

IBM DB2 SQL statements

Stored Procedures

SQL External Functions

SQL Data Modification

This test on DB2 SQL basics is designed & validated by our subject matter experts to evaluate knowledge of the candidate to hire as DB2 SQL Developer. Using powerful reporting, you can have a detailed analysis of the test results to help you make a better hiring decision and predict the candidate's performance.

The test contains MCQ's (Multiple Choice Questions), MAQ's (Multiple Answer Questions), Fill in the Blank, Descriptive, True or False.
Good News! You can customize this test as per your requirement
Choose and add questions from Interview Mocha question libraries

Add your own set of questions

Customize test settings like duration, number of questions, passing score, web proctoring and much more

Mail us at support@interviewmocha.com to create a custom test
Looking for a tailor-made test, to suit your assessment needs?
Get in touch
Global companies using Mocha assessments
How Mocha assessments are brewed
Speed up your IT recruitment with Interview Mocha
500+ IT skill tests
20+ coding languages
50+ domain knowledge tests
100+ digital 2.0 skill tests
Customer focus aptitude tests
Enterprise ready features & more...
GET A DEMO
Why hiring managers and recruiters across the globe love Interview Mocha
Take your first step to hire job fit candidates