First Line Supervisor Test
View Sample Report
Start hiring job-fit candidates using this assessment
GET A DEMO
"Our recruitment team loves Interview Mocha especially for their skill assessments, simulators, and friendly support. Since using Interview Mocha, we interview only relevant candidates, and this has reduced our time to hire. Recruitment is no longer an hassle for us."

Question
The percentage increase in the area of a rectangle, if each of its sides is increased by 20%, is:
Question
Cogwheel number 1 rotates counterclockwise as shown.
If the red cogwheel rotates in the direction of the arrow choose option 1; if it rotates in the opposite direction choose option 2; if the red cogwheel does not move at all choose option 3.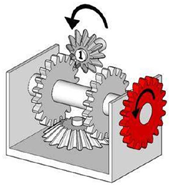 Question
The diagram shows two fixed cogwheels which can only rotate around their own axis. A rack is inserted between the two cogwheels and is moved in the direction shown by the arrow. What are the directions of movement and velocities of the cogwheels?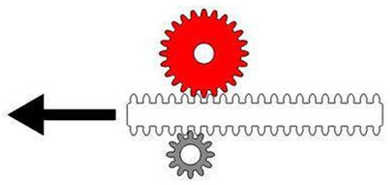 Answer
Same direction, same velocities

Same direction, different velocities

Different directions, same velocities

Different directions, different velocities
Test details:
Test Details: 59 Questions 75 minutes

Verbal Ability - 10 Questions 10 minutes

Verbal Reasoning - 08 Questions 12 minutes

Quantitative Aptitude - 10 Questions 10 minutes

Logical Reasoning - 08 Questions 13 minutes

Abstract Reasoning - 08 Questions 13 minutes

Mechanical Aptitude - 15 Questions 17 minutes
Test description:
The first line supervisors have to manage the labor in order to meet production targets. They need to possess good managerial and administrative skills. They need to deal with a wide range of skill sets within a production climate. This includes, but is not limited to assemblers, machinists, maintenance, material handlers and team/group leaders.

Their key tasks include:
Monitor the quality of the employees' work and provide any needed assistance in order to ensure quality products and safety of the employees.

Assure proper management of all production shifts and employees.

Coordinate manufacturing needs with other departments and provides support to other departments in attaining of the company's mission of customer satisfaction.

Assure that the needed training is provided to employees.

Assure the effectiveness and accuracy of equipment and tooling used in the manufacturing operation. Assist in diagnosing equipment and tooling malfunctions. Expedite and coordinate repairs and/or replacement with department and plant maintenance and engineering groups.

Anticipate production problems (i.e. material outages, equipment malfunctions), and where feasible, develop and implement preventive action to offset a loss of production and/or poor quality production.

Provide inputs regarding cost reductions, work simplification, production scheduling, labor planning, and process improvement.

KEY SKILLS REQUIRED:
PLANNING AND COORDINATING - Abstract Reasoning, Quantitative Aptitude

CRITICAL THINKING - Logical Reasoning

STRONG COMMUNICATION AND PRESENTATION SKILLS - Verbal Ability and Verbal Reasoning
TEST DESCRIPTION
VERBAL ABILITY
Verbal ability is essential because grammar and vocabulary is a prerequisite for good spoken and written English.

VERBAL REASONING
Reading comprehension indicates an ability to comprehend and reason with the concepts on a written page.

QUANTITATIVE APTITUDE
Quantitative ability will indicate analytical thinking and problem-solving ability.

LOGICAL REASONING
Logical Reasoning is assessed through
• Statement/Conclusion
• Cause /Effect and
• Statement/Fact questions
These questions will indicate the quality of deductive reasoning and inductive reasoning which contribute to Critical thinking ability.

ABSTRACT REASONING
Abstract reasoning will indicate the ability to think clearly, identify logical patterns, learn new skills and solve complex problems. It is an indicator of fluid intelligence and shows an ability to strategize.
Good News! You can customize this test as per your requirement
Choose and add questions from Interview Mocha question libraries

Add your own set of questions

Customize test settings like duration, number of questions, passing score, web proctoring and much more

Mail us at support@interviewmocha.com to create a custom test
Looking for a tailor-made test, to suit your assessment needs?
Get in touch
Global companies using Mocha assessments
How Mocha assessments are brewed
Speed up your IT recruitment with Interview Mocha
500+ IT skill tests
20+ coding languages
50+ domain knowledge tests
100+ digital 2.0 skill tests
Customer focus aptitude tests
Enterprise ready features & more...
GET A DEMO
Why hiring managers and recruiters across the globe love Interview Mocha
Take your first step to hire job fit candidates