Deep Learning Online Test
Useful for hiring
Deep Learning Engineer
Research Engineer - Deep Learning
Deep Learning Developer
View Sample Report
Start hiring job-fit candidates using this assessment
GET A DEMO
"We are impressed with Interview Mocha's comprehensive IT skill test batteries and their ability to provide tailor-made assessments quickly. The results we got from Interview Mocha exceeded our expectations, employees found the tests quick, fun, and a benchmark of their knowledge."
Ajay Garg, Siemens,
Associate Manager
Question
Your boss told you that you need to do sentiment analysis using Convolutional Neural Networks. Knowing that Convolutional Neural Networks are well-known for good performance in images, how will you react?
Answer
You can't use Convolutional Neural Networks for Natural Language Processing.

That's totally wrong. Recurrent Neural Networks are better to use for this.

It's totally alright. Convolutional Neural Networks can also be used for Natural Language Processing

It's totally okay. We just need to reconstruct the documents to images before applying Convolutional Neural Networks
Question
Suppose you were given a neural network architecture shown in the image and its activation function. What would be the weights and bias if you would want to implement an AND function?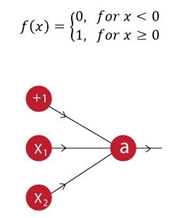 Answer
bias = -1.5, w1 = 1, w2 = 1

bias = 1.5, w1 = 2, w2 = 2

bias = 1, w1 = 1.5, w2 = 1.5
Question
The deep learning model still isn't converging even long after its expected time of completion. The data that was ingested for training was untouched. How will you remedy the situation?
Answer
Further decrease the learning rate

Increase the number of epochs
View Test Details
Good News! You can customize this test as per your requirement
Choose and add questions from Interview Mocha question libraries

Add your own set of questions

Customize test settings like duration, number of questions, passing score, web proctoring and much more

Mail us at support@interviewmocha.com to create a custom test
Looking for a tailor-made test, to suit your assessment needs?
Get in touch
Global companies using Mocha assessments
How Mocha assessments are brewed
Speed up your IT recruitment with Interview Mocha
500+ IT skill tests
20+ coding languages
50+ domain knowledge tests
100+ digital 2.0 skill tests
Customer focus aptitude tests
Enterprise ready features & more...
GET A DEMO
Why hiring managers and recruiters across the globe love Interview Mocha
Take your first step to hire job fit candidates