Database, SQL Online Test
Topics Covered
SQL Data Types and Literals
SQL Operators
Views
Indexes
Nulls
SQL Functions
SQL Tables
Queries
Commands and clause
PL/SQL
DBMS Concepts
DDL
DML
DTL(TCL)
Useful for hiring
Junior SQL Developer
SQL Programmer
SQL Coder
SQL Database Administrator
SQL Admin
View Sample Report
Start hiring job-fit candidates using this assessment
GET A DEMO
"The best part of Interview Mocha is they have topic wise questions available. The skill wise extensive reports and advanced analytics lets us measure & benchmark the proficiency level of employees in that particular skill."
Cheryl Tolkinen, Securian, USA,
Learning & Development Manager
Question
SELECT name, course_id 
FROM instructor, teaches 
WHERE instructor_id = teaches_id; 
Which of the following queries will replace the given query?
Answer
SELECT name, course_id
FROM teaches, instructor
WHERE instructor_id = course_id;


SELECT name, course_id
FROM instructor
natural JOIN teaches;


SELECT name, course_id
FROM instructor;


SELECT course_id
FROM instructor
JOIN teaches;

Question
The table below shows a relationship for Prince University student database: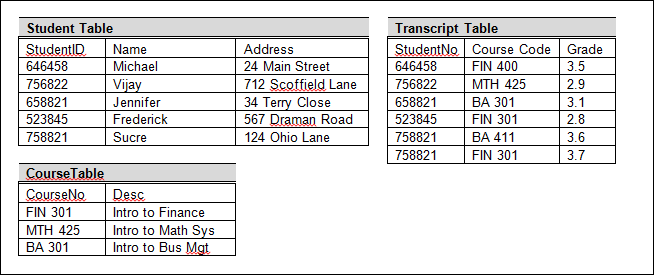 As a user and administrator of the prince university database and certain information are required from you from the database. Which is less likely viable?
Answer
The user of the database should be able to ask for a list of courses taken by a specific student

Ask for a list of students currently enrolled in a specific course

Ask for a list of students currently enrolled in all courses

Ask for a list of students not enrolled in all the courses
Test details:
SQL online test for experienced enables employers and recruiters to identify potential hires by evaluating their working skills and job readiness. For this reason, the emphasis is laid upon evaluating the knowledge of applied skills gained through real work experience, rather than theoretical knowledge.

The test may contain MCQ's (Multiple Choice Questions), MAQ's (Multiple Answer Questions), Fill in the Blank, Descriptive, Whiteboard Questions, Audio / Video Questions, True or False.

Duration: 40 minutes
Questions : 40
Test description:
SQL (Structured Query Language) is a language used to access and manage the data held in RDSMS (Relational Data Stream Management System). It is an ANSI (American National Standards Institute) Standard. SQL developer and administrator should possess in-depth knowledge of SQL queries, database fundamentals.

SQL Online Test is created & validated by experienced subject matter experts (SMEs) to assess SQL, database skills of the candidates as per industry standards. Our online SQL test helps recruiters in evaluating the person's ability to successfully apply his SQL programming skills to perform tasks.

Online test on SQL contains questions on following topics:
SQL Data Types and Literals

SQL Operators

Views, Indexes, Nulls

SQL Functions

SQL Tables

Queries

Commands and clause

PL/SQL

DBMS Concepts

DDL, DML, DTL(TCL)

Our score report helps to select the candidate who is the right fit for the job that requires knowledge of the SQL and database fundamentals. The online test on SQL reports are automated and provide a detail, analytical view of each candidate
Good News! You can customize this test as per your requirement
Choose and add questions from Interview Mocha question libraries

Add your own set of questions

Customize test settings like duration, number of questions, passing score, web proctoring and much more

Mail us at support@interviewmocha.com to create a custom test
Looking for a tailor-made test, to suit your assessment needs?
Get in touch
Global companies using Mocha assessments
How Mocha assessments are brewed
Speed up your IT recruitment with Interview Mocha
500+ IT skill tests
20+ coding languages
50+ domain knowledge tests
100+ digital 2.0 skill tests
Customer focus aptitude tests
Enterprise ready features & more...
GET A DEMO
Why hiring managers and recruiters across the globe love Interview Mocha
Take your first step to hire job fit candidates