Business Analyst Excel Test
Topics Covered
Business Cases
Stakeholder Processes
Worksheet and Charts
Operators
MS Excel Functions
MS Excel Formulas
View Sample Report
Start hiring job-fit candidates using this assessment
GET A DEMO
"Our recruiters no longer rely only on the telephonic interviews. We shortlist candidates based on assessment reports. The detailed test reports provide skill wise analysis of each candidate. This has helped our clients reduce their time to hire by 60%."
Vipin Sharma, Mobile Programming,
General Manager HR & Recruitement
Question
You are a Business Analyst at BD Bank. You are involved in a software project that is replacing an out-dated, inefficient legacy system (System X) with an efficient, process-driven web-based solution. However, the project team is facing a few challenges.

The project has requested a detailed stakeholder matrix. You have documented the stakeholder matrix in the RACI format. The stakeholder matrix identifies several key stakeholders. 

RACI legend:
Responsible - Those who do the work to achieve the task
Accountable - Signs off various project outputs and ensures thorough completion of each task
Consulted - Required to provide feedback on documents / in workshops
Informed - Keep up to date on progress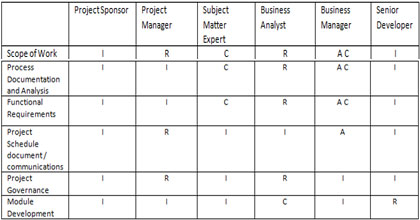 Which of the following statements is not correct pertaining to the Business Analyst's responsibilities as documented in the RACI matrix?
Answer
The business analyst will provide input into the development process and support the senior developer


The business analyst will document the Functional Requirement specification in accordance with the project governance principles


The business analyst will analyze the documented process and provide feedback to the stakeholders


The business analyst will send project progress communications to project stakeholders

Question
Take a look at the chart given here, the data is very uneven. How will you convert the jagged line into a smoothed line?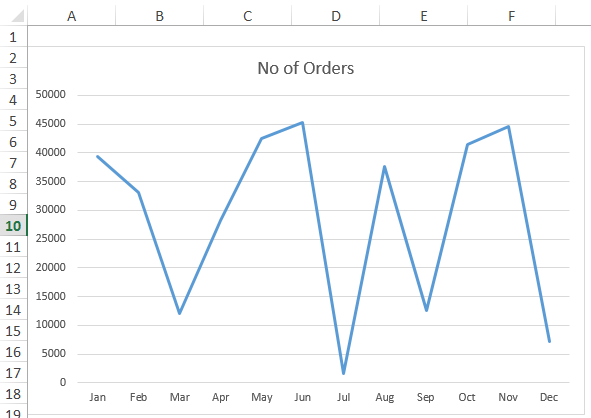 Answer
Right click on the chart and click on "Smoothen Line"

Click on the line, select Format Line, Choose the Fill option, tick the Smoothed Line option.

Click on the line, select Format Data Series, Choose the Line and Fill option, tick the Smoothed Line option.

Click on the line, Go to the format tab and tick the Smoothed Line Option
Test details:
Excel skills test for business analyst will evaluate candidate's practical knowledge and will identify whether the candidate is ready to be employed. Business analyst Excel skills test can be taken by the candidate from anywhere in the comfort of their time zone.

Business analyst Excel assessment test may contain MCQ's (Multiple Choice Questions), MAQ's (Multiple Answer Questions), Fill in the Blank, Descriptive, Whiteboard Questions, Audio / Video Questions, True or False.


Test Details: 20 minutes

10 Application Questions
Test description:
Microsoft Excel is one of the most used and versatile business analysis, reporting, and strategy software. Candidates with deep practical knowledge of Excel can improve productivity in their work. A Business analyst is someone who analyzes a business domain and documents its business or processes or systems, assessing the business model or its integration with technology. Microsoft Excel is an important tool in the hands of a business analyst.
Business analyst Excel test helps recruiters and hiring managers to assess candidate's business analysis and excel skills. Interview Mocha's Excel test for business analyst is created & validated by experienced subject matter experts (SMEs) to assess & hire business analyst with expertise in MS Excel as per industry standards.
Business analyst Excel skills test helps you to screen the candidates who possess traits as follows:
1.
Excellent problem solving and decision-making skills
2.
Excellent analytical & critical thinking skills
3.
Strong documentation skills
4.
Ability to work on different functions in Excel
5.
Understanding of data analysis & chart analysis
6.
Working knowledge of VLOOKUP, pivot tables, regression
Interview Mocha's test platform helps you to easily invite candidate's to take online Excel test for business analyst. You can get instant results and an option to share this result with your recruiting team.
Our powerful reporting helps you to analyze section wise performance of candidate to gauge his strengths and weaknesses. Features like window violation and webcam proctoring help detect cheating during the test.
Good News! You can customize this test as per your requirement
Choose and add questions from Interview Mocha question libraries

Add your own set of questions

Customize test settings like duration, number of questions, passing score, web proctoring and much more

Mail us at support@interviewmocha.com to create a custom test
Looking for a tailor-made test, to suit your assessment needs?
Get in touch
Global companies using Mocha assessments
How Mocha assessments are brewed
Speed up your IT recruitment with Interview Mocha
500+ IT skill tests
20+ coding languages
50+ domain knowledge tests
100+ digital 2.0 skill tests
Customer focus aptitude tests
Enterprise ready features & more...
GET A DEMO
Why hiring managers and recruiters across the globe love Interview Mocha
Take your first step to hire job fit candidates