Business Analyst Aptitude Test
Topics Covered
Analytical Thinking
Data Interpretation
Data Sufficiency
Listening Skills
Comprehension
Writing Skills
Useful for hiring
Junior Business Analyst
Senior Business Analyst
Junior System Analyst
Senior System Analyst
View Sample Report
Start hiring job-fit candidates using this assessment
GET A DEMO
"Our recruiters no longer rely only on the telephonic interviews. We shortlist candidates based on assessment reports. The detailed test reports provide skill wise analysis of each candidate. This has helped our clients reduce their time to hire by 60%."
Vipin Sharma, Mobile Programming,
General Manager HR & Recruitement
Question
Direction to Solve

In below question are given two statements followed by two conclusions numbered I and II. You have to take the given two statements to be true even if they seem to be at variance from commonly known facts. Read the conclusion and then decide which of the given conclusions logically follows from the two given statements, disregarding commonly known facts.

Statements: Many scooters are trucks. All trucks are trains.

Conclusions:

l. Some scooters are trains.
ll. No truck is a scooter.

Answer
Only conclusion I follows


Only conclusion II follows

Question
You are a Business Analyst at BD Bank. You are involved in a software project that is replacing an out-dated, inefficient legacy system (System X) with an efficient, process-driven web-based solution. However, the project team is facing a few challenges.

The project has requested a detailed stakeholder matrix. You have documented the stakeholder matrix in the RACI format. The stakeholder matrix identifies several key stakeholders. 

RACI legend:
Responsible - Those who do the work to achieve the task
Accountable - Signs off various project outputs and ensures thorough completion of each task
Consulted - Required to provide feedback on documents / in workshops
Informed - Keep up to date on progress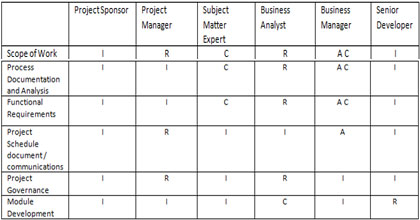 Which of the following statements is not correct pertaining to the Business Analyst's responsibilities as documented in the RACI matrix?
Answer
The business analyst will provide input into the development process and support the senior developer


The business analyst will document the Functional Requirement specification in accordance with the project governance principles


The business analyst will analyze the documented process and provide feedback to the stakeholders


The business analyst will send project progress communications to project stakeholders

Test details:
The online aptitude test for business analyst enables employers and recruiters to identify very high-quality candidates better & faster. Business analyst interview test can be taken online by candidates from anywhere in the comfort of their time zone.

The business analyst online test contains MCQ's (Multiple Choice Questions), MAQ's (Multiple Answer Questions), Fill in the Blank, Descriptive, Whiteboard Questions, Audio / Video Questions, True or False.

Test Duration: 20 minutes

10 Application Questions

Testimonial:

"When hiring system analysts for my department, I had to assess the applicants on their logical reasoning & aptitude, which are requisites for the role of BA. However, assessing a large pool of candidates & acquiring unbiased results without any human hustle is difficult without an automated solution. With Interview Mocha's system analyst test, I was able to filter more than 500 candidates within a short span of time. Additionally, it has helped me to take the data-driven hiring decisions."

- George Nichkov, Global Analytics Team Lead, Gett

Test description:
The business analyst is responsible for translating the customer's need or business objectives into new projects, profits as well as communicating them to partners & stakeholders. With Business Analyst, organizations achieve their goals effectively & efficiently.

Business analyst assessment test is specially designed by subject matter experts (SMEs) to assess analytical, interpretation and documentation skills of a candidate as per industry standards. This business analyst online test enables hiring managers & recruiters to assess the skills of candidates before an interview.

The business analyst skills test contains meaningful questions on the following topics:
Analytical Thinking

Data Interpretation

Data Sufficiency

Listening Skills

Reading Comprehension

Writing Skills

Business Analyst Job-based Skills
Business analyst aptitude test based on the important skills mentioned as below:

1. Communication:
To assess knowledge of eliciting requirement, feedback and pain points of stakeholders
To assess the ability to communicate requirements to the delivery team or testing team
To assess capabilities and expertise to maintain stakeholder engagement

2. Active listening:
To assess whether the candidate accurately understands what the speaker says
To assess the ability to reply and paraphrase what he/she has just heard
To assess the ability to extract additional information from the speaker

3. Cognitive competencies:

To assess how to perform work task accurately and effectively
To assess decision-making capabilities
To assess intelligence to handle new or complex circumstances

4. Analytical and problem-solving skills:
To assess the ability to understand and comprehend a problem based on the data
To assess the skills of finding the best possible solution for a given business problem

Analyze the aptitude skills and technical strengths of the candidates using Mocha's detail analytical reports of each appeared candidate to make the right hiring decisions.

We, at Interview Mocha also provide the facility of customized assessment i.e. you can create or ask us to create a custom-made test specific to your job description.
Good News! You can customize this test as per your requirement
Choose and add questions from Interview Mocha question libraries

Add your own set of questions

Customize test settings like duration, number of questions, passing score, web proctoring and much more

Mail us at support@interviewmocha.com to create a custom test
Looking for a tailor-made test, to suit your assessment needs?
Get in touch
Global companies using Mocha assessments
How Mocha assessments are brewed
Speed up your IT recruitment with Interview Mocha
500+ IT skill tests
20+ coding languages
50+ domain knowledge tests
100+ digital 2.0 skill tests
Customer focus aptitude tests
Enterprise ready features & more...
GET A DEMO
Why hiring managers and recruiters across the globe love Interview Mocha
Take your first step to hire job fit candidates