Business Analyst Banking Test
Topics Covered
ROI
ROA
revenue budgets
financial leverage
profit margin
bank deposit insurance
financial system
requirement analysis
Useful for hiring
Jr. Business Analyst - Banking (0-2 years experience
Business Analyst - Banking Domain (0-2 years experience)
Business / Quantitative Analyst - Banking (0-2 years experience)
View Sample Report
Start hiring job-fit candidates using this assessment
GET A DEMO
"Our recruiters no longer rely only on the telephonic interviews. We shortlist candidates based on assessment reports. The detailed test reports provide skill wise analysis of each candidate. This has helped our clients reduce their time to hire by 60%."
Vipin Sharma, Mobile Programming,
General Manager HR & Recruitement
Question
You are a Business Analyst at BD Bank. You are involved in a software project that is replacing an out-dated, inefficient legacy system (System X) with an efficient, process-driven web-based solution. However, the project team is facing a few challenges.

The project has requested a detailed stakeholder matrix. You have documented the stakeholder matrix in the RACI format. The stakeholder matrix identifies several key stakeholders. 

RACI legend:
Responsible - Those who do the work to achieve the task
Accountable - Signs off various project outputs and ensures thorough completion of each task
Consulted - Required to provide feedback on documents / in workshops
Informed - Keep up to date on progress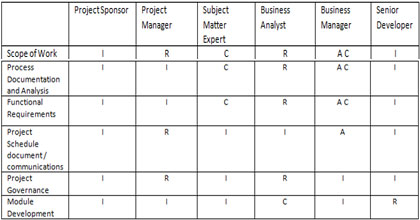 Which of the following statements is not correct pertaining to the Business Analyst's responsibilities as documented in the RACI matrix?
Answer
The business analyst will provide input into the development process and support the senior developer


The business analyst will document the Functional Requirement specification in accordance with the project governance principles


The business analyst will analyze the documented process and provide feedback to the stakeholders


The business analyst will send project progress communications to project stakeholders

Question
If the Petty Cash Book is treated as merely a subsidiary book of accounts, $156 paid by the Cashier to restore the petty cash balance to the level of the imprest. This should be accounted as:
Answer
Debit Petty Cash Account and credit Cash Account

Debit Cash Account and credit Petty Cash Account

Debit Petty Cash Account and credit Bank Account

Debit Petty Cash Book and credit Cash Account
Test details:
The test enables employers and recruiters to identify potential hires by evaluating working skills and job readiness. For this reason, the emphasis is laid upon evaluating the knowledge of applied skills gained through real work experience, rather than theoretical knowledge.

Questions: 30
Duration: 30 minutes

Business Analyst: 10 Questions 10 minutes

Banking: 10 Questions 10 minutes

Analytical Thinking: 5 Questions 5 minutes

Writing Skills: 5 Questions 5 minutes
Test description:
A Banking Business Analyst mainly works in conceptualizing and proposing solutions which are used in the area of banking sectors and which gives a detail analysis of business process. Also, Banking analyst has to identify and document various assumptions and constraints which help in solving the risk areas of banking.
Business Analyst for Banking test is mainly designed to assess the candidates in the areas of banking, finance, money market mutual funds, IT technologies, Data Mining, SDLC, Excel Proficiency various business modules, knowledge of system analysis, strong communication with business stakeholders, understanding the regulatory changes in the project, regulatory implementations, etc. This test contains meaningful questions on ROI, ROA, revenue budgets, financial leverage, profit margin, bank deposit insurance, financial system, requirement analysis and many more.
Using powerful reporting, you will have a detailed analysis of test results to help you make better decisions and predict candidate and employee success.
Good News! You can customize this test as per your requirement
Choose and add questions from Interview Mocha question libraries

Add your own set of questions

Customize test settings like duration, number of questions, passing score, web proctoring and much more

Mail us at support@interviewmocha.com to create a custom test
Looking for a tailor-made test, to suit your assessment needs?
Get in touch
Global companies using Mocha assessments
How Mocha assessments are brewed
Speed up your IT recruitment with Interview Mocha
500+ IT skill tests
20+ coding languages
50+ domain knowledge tests
100+ digital 2.0 skill tests
Customer focus aptitude tests
Enterprise ready features & more...
GET A DEMO
Why hiring managers and recruiters across the globe love Interview Mocha
Take your first step to hire job fit candidates