Adobe Lightroom Assessment Test
Topics Covered
Tonal adjustments
Syncing
Sort
Edit Mode
Upright
HDR photo merge
Panoramas
Smart Preview
HSL
Gradient Filter
Split Toning
Histogram
Lens Correction
Adjustment Brush
Useful for hiring
Photography Professionals
Graphics Designers
Visual Designers
View Sample Report
Start hiring job-fit candidates using this assessment
GET A DEMO
"Finding quality talent is a challenge more so when you consider the sheer number of resumes we get each year. To top this, the time we spent on our recruitment process was humongous. Interview Mocha helped us to cut down on our candidate filtration time by 40%, making it our preferred assessment tool."

Pedro Furtado, Altran,
Capacity Manager
Question
Suppose you have an image of a dog on the beach. You want to add a tint of red color in the background of the photo as shown below. How can this be done?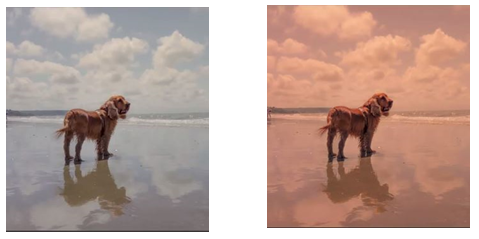 Answer
By applying the Gradient filter on the image.

By applying Split Toning on the image.

By using the Saturation option of the Basic panel.
Question
Suppose you forgot to correct your lens configuration resulting in vignetted photo. Now you are editing the photo in Lightroom to reduce the unwanted vignette. What will happen if you experimented and moved the amount slider to the extreme right?
Answer
It will brighten the edges of the photo.

It will darken the center of the photo.

It will darken the edges of the photo.

It will brighten the center of the photo.
Question
You have edited an image in Adobe Lightroom and want to print it. Before that you soft proof the image by analyzing the image preview. If the following is the preview of your image then, which color represents the parts of the image outside the range of the printer?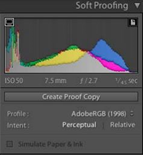 Test details:
This Adobe Lightroom interview test enables employers and recruiters to identify potential hires by evaluating working skills and job readiness. For this reason, an emphasis is laid upon evaluating their knowledge of applied skills gained through real work experience rather than theoretical knowledge.

The test contains MCQ's (Multiple Choice Questions), MAQ's (Multiple Answer Questions), Fill in the Blank, Descriptive, True or False.

Test Duration: 20 minutes

10 Application Questions

The test consists of the combination of application and theory questions that helps you to evaluate practical skills of candidates.
Test description:
Adobe Lightroom assessment test is created & validated by experienced Subject Matter Experts (SME)s to assess the image editing, processing & managing skills of the candidates- as per Industry Standards.

Adobe Photoshop Lightroom is a simplified version of Adobe Photoshop which is the most popular software used for image editing that further specializes in digital photo management. Adobe Photoshop Lightroom helps to analyze your images, adjust balance and exposure, correct details, straighten crooked photos, change the calibration, label and geolocate your pictures, and basically, work with virtually any photo digital format.

Adobe Lightroom pre-employment test helps recruiting teams and hiring managers to find the right fit candidate who is expert in Adobe Photoshop Lightroom.

Adobe Lightroom screening test contains questions on following Topics:

Tonal adjustments

Syncing

Sort

Edit Mode

Upright

HDR photo merge

Panoramas

Smart Preview

HSL

Gradient Filter

Split Toning

Histogram

Lens Correction

Adjustment Brush

Weed out under qualified candidates using our scientifically designed Adobe Lightroom pre-hiring test & spend time interviewing only relevant candidates.

The reports are generated instantly. The hiring analytics will provide you the detailed analysis of skills related strengths & weaknesses of the candidates that will help you in making better hiring decisions.
Good News! You can customize this test as per your requirement
Choose and add questions from Interview Mocha question libraries

Add your own set of questions

Customize test settings like duration, number of questions, passing score, web proctoring and much more

Mail us at support@interviewmocha.com to create a custom test
Looking for a tailor-made test, to suit your assessment needs?
Get in touch
Global companies using Mocha assessments
How Mocha assessments are brewed
Speed up your IT recruitment with Interview Mocha
500+ IT skill tests
20+ coding languages
50+ domain knowledge tests
100+ digital 2.0 skill tests
Customer focus aptitude tests
Enterprise ready features & more...
GET A DEMO
Why hiring managers and recruiters across the globe love Interview Mocha
Take your first step to hire job fit candidates