Adobe InDesign Skills Assessment Test
Topics Covered
Objects Transformation
Working with Anchored Objects
Text Frame Fitting
Colour Management
Image Optimization
Page Transition
Drop Caps and Nested Styles
Display Quality Enhancement
Selecting Objects
Creating Captions
Adding Transparency Effects
Text Formatting
Editing Paths
Creating Interactive Web Documents
Transparency Adjustment
Working with Files
Document and Page Numbering
Useful for hiring
InDesign Paginator
Photoshop Designer
Graphics Designer
Production Artists
InDesign Expert
View Sample Report
Start hiring job-fit candidates using this assessment
GET A DEMO
"Interview Mocha has provided UNEECOPS with a veritable assessment platform with a comprehensive test library, online test platform, and intelligent reports. This made it easier for us to map different job openings with job-fit candidates and recruit faster."
Nisha Chandila, UNEECOPS,
Talent Acquisition Manager
Question
You are writing a recipe for a cookbook and want to beautify it using InDesign. At one point in the recipe, you encounter that you have to use 1.5 Tablespoons of Flour. However, it is mentioned as 11/2 Tablespoon of Flour. You want it to be converted into an appropriate fraction. Which of the following inputs should be given as the GREP search in the To Text field to implement the same?
Question
The given image shows a reflection of a given text. However, your light source is located in the fourth quadrant behind the text. Which of the following should be helpful to achieve a proper reflection in such a scenario?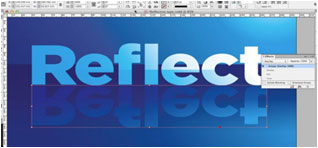 Question
You are trying to use the Snapping and Smart Guide feature in both Illustrator and InDesign. You find that the feature is working perfectly fine in InDesign but is not working properly in Illustrator. On inspecting you find that Snapping Tolerance option is set as 4 pixels in Illustrator and is not the same as the corresponding option in InDesign. Which of the following option should be set to 4 pixels in InDesign to achieve the same?
Test details:
Identify & hire potential Adobe InDesign experts using our valid & reliable Adobe InDesign online test.

The Adobe InDesign quiz test contains MCQ's (Multiple Choice Questions), MAQ's (Multiple Answer Questions), Fill in the Blank, Descriptive, True or False.

Test Details: 20 minutes

20 Application Questions

This Adobe InDesign CC skills assessment test contains the combination of application and theory questions that helps you to evaluate technical as well as practical skills of candidates.
Test description:
The Adobe InDesign Test has been designed and developed to help recruiters and hiring managers to evaluate the Adobe InDesign CC skills of candidates before an interview.

Adobe InDesign is a desktop publishing software application. An Adobe InDesign expert holds mastery in creating and laying out publications and printed media. Adobe InDesign tool imparts vital contribution in making style sheets and digital publications like magazines, e-books, posters, etc. InDesign CC is the latest version of Adobe InDesign.

Adobe InDesign skills test is created & validated by global subject matter experts (SME)s to assess & hire InDesign Experts – as per industry standards.

Adobe InDesign assessment test contains questions on following Topics:

Objects Transformation

Working with Anchored Objects

Text Frame Fitting

Colour Management

Image Optimization

Page Transition

Drop Caps and Nested Styles

Display Quality Enhancement

Selecting Objects

Creating Captions

Adding Transparency Effects

Text Formatting

Editing Paths

Creating Interactive Web Documents

Transparency Adjustment

Working with Files

Document and Page Numbering

We provide the facility of customizable assessments in which employers & recruiters can either ask us for creating the skills test as per their job requirement or can create the test on their own.

Get the intelligent reports within 15 minutes of test attempt & make better hiring decisions.
Good News! You can customize this test as per your requirement
Choose and add questions from Interview Mocha question libraries

Add your own set of questions

Customize test settings like duration, number of questions, passing score, web proctoring and much more

Mail us at support@interviewmocha.com to create a custom test
Looking for a tailor-made test, to suit your assessment needs?
Get in touch
Global companies using Mocha assessments
How Mocha assessments are brewed
Speed up your IT recruitment with Interview Mocha
500+ IT skill tests
20+ coding languages
50+ domain knowledge tests
100+ digital 2.0 skill tests
Customer focus aptitude tests
Enterprise ready features & more...
GET A DEMO
Why hiring managers and recruiters across the globe love Interview Mocha
Take your first step to hire job fit candidates