Adobe After Effects Quiz Test
Topics Covered
Animation effects
Working with layers
Animation
Creating GIF image
Importing file
Working with frames
Elements
Exporting video
Object property
Animating Text
Exporting video
Working with layers
Composition
Working with camera
Tracing video frames
Snapping layers
Useful for hiring
Graphics Designer
Motion Graphics Designer
UI Designer
Video Editor
View Sample Report
Start hiring job-fit candidates using this assessment
GET A DEMO
"Finding quality talent is a challenge more so when you consider the sheer number of resumes we get each year. To top this, the time we spent on our recruitment process was humongous. Interview Mocha helped us to cut down on our candidate filtration time by 40%, making it our preferred assessment tool."

Pedro Furtado, Altran,
Capacity Manager
Question
Given is a paragraph question based on a 3D object that you have created in AE. Read the scenario and mark the appropriate option.

You have a 3D object. You need to move the 3D object in such a way so as to keep its orientation exactly the same in AE. 

Instead of going for the Orthographic Camera technique, you are asked to find a workaround to implement the same. Which of the following methods can be used to achieve a similar effect?
Answer
Make a 3D object in Illustrator and import it to AE without making it a 3D layer in AE. You can use this pre-composed 3D imagery turned flat.

Dispense the camera and rotate the 3D object and view it from the front view. Then just move the object about, no perspective added at the same time rotating the object in relation to your scene
Question
You have to create a model in AE where when you enter two numbers, the sum is automatically displayed. At the same time, there has to be a graph in the bottom of the numbers which shows the contribution of each number in the sum. Which of the following elements will be needed to obtain this design?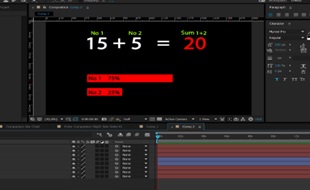 Question
You are trying to create an animation in which a ball moves between two keyframes in an arc. You may need to create a perfect arc between two keyframes. Which of the following techniques can give you the desired result with the maximum amount of precision?

Note: There can be multiple correct answers to this question.
Answer
Drawing a locus with the help of mathematical expressions.

Adjusting the Bezier Handles in the form of an arc.

Rotate the ball around a point which is the center of the circle on which the two keyframes lie.
Test details:
The Adobe After Effects skill test enables employers and recruiters to identify potential hires by evaluating working skills and job readiness. For this reason, emphasis is laid upon evaluating the knowledge of applied skills gained through real work experience rather than theoretical knowledge.

The test contains MCQ's (Multiple Choice Questions), MAQ's (Multiple Answer Questions), Fill in the Blank, Descriptive, True or False.

Test Duration: 20 minutes

20 Application Questions

This Adobe After Effects online test contains the combination of application and theory questions that helps you to evaluate technical as well as practical skills of candidates.
Test description:
Adobe After Effects Test has been designed by our global Subject Matter Experts (SME)s to assess knowledge of Adobe After Effects Designer - as per Industry Standards.

Adobe After Effects is a powerful application which creates excellent photos, visual effects, and compositing applications. It also renders 3D graphics and can easily add motions into this graphics.

The online Adobe After Effects quiz test helps recruiters & hiring managers to screen & hire candidates with excellent motion graphics & visual effects creation skills before an interview.


Adobe After Effects assessment test contains questions on:

Animation effects

Working with layers

Animation

Creating GIF image

Importing file

Working with frames

Elements

Exporting video

Object property

Animating Text

Exporting video

Working with layers

Composition

Working with camera

Tracing video frames

Snapping layers

Using powerful reporting, you can have a detailed analysis of the Adobe After Effects quiz results to help you make a better hiring decision and predict the candidate's performance.
Good News! You can customize this test as per your requirement
Choose and add questions from Interview Mocha question libraries

Add your own set of questions

Customize test settings like duration, number of questions, passing score, web proctoring and much more

Mail us at support@interviewmocha.com to create a custom test
Looking for a tailor-made test, to suit your assessment needs?
Get in touch
Global companies using Mocha assessments
How Mocha assessments are brewed
Speed up your IT recruitment with Interview Mocha
500+ IT skill tests
20+ coding languages
50+ domain knowledge tests
100+ digital 2.0 skill tests
Customer focus aptitude tests
Enterprise ready features & more...
GET A DEMO
Why hiring managers and recruiters across the globe love Interview Mocha
Take your first step to hire job fit candidates