Accounting Assistant Test Assessment
Topics Covered
Accounting Fundamental
Financial Analysis
Management Accounting
Numerical Reasoning
Excel Advance 2016
View Sample Report
Start hiring job-fit candidates using this assessment
GET A DEMO
"The best part of Interview Mocha is they have topic wise questions available. The skill wise extensive reports and advanced analytics lets us measure & benchmark the proficiency level of employees in that particular skill."
Cheryl Tolkinen, Securian, USA,
Learning & Development Manager
Question
Authorised capital of a company is $0.5mn, 40% of it is paid up. Loss incurred during the year is $50,000. Accumulated loss carried from last year is $0.2mn. The company has a Tangible Net Worth of ______
Question
Consider below graph: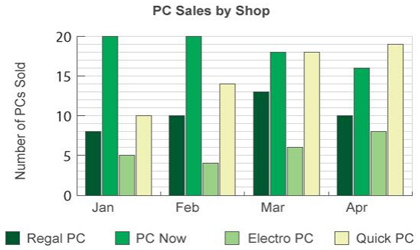 If the average profit made on each PC sold by Quick PC was $62, what was the total profit over the four months for Quick PC?
Question
The Cape Cod Cotton Candy Company had the following information available regarding last year's operations:


If sales were to increase by 200 units, what would be the effect on net income?
Test details:
Duration: 25 minutes
Questions: 25
Test description:
Accounts assistants provide administrative support to accountants, undertaking clerical tasks such as typing, filing, making phone calls, handling mail and basic bookkeeping. They perform various clerical/accounting functions in support of the companies or department's financial tracking, processing and reporting requirements. The work may involve general accounts payable/receivable or related financial areas. Work is mostly structured, with procedures and guidelines available as to how assignments are to be completed. However, may occasionally be required to develop alternative solutions and approaches.

Other duties and responsibilities of the job include:
Working with spreadsheets, sales and purchase ledgers and journals.

Preparing statutory accounts.

Calculating and checking to make sure payments, amounts and records are correct.

Sorting out incoming and outgoing daily post and answering any queries.

Managing petty cash transactions.

Controlling credit and chasing debt.

Reconciling finance accounts and direct debits.

Reconcile cash accounts between the bank statement and general ledger.

Record journal entries.

Complete internal audit procedures.

Convert documents to PDF format.

Enter general ledger data to depreciation system, performance measurement system, and other ancillary systems.

Assemble documents in response to independent auditor requests.

Enter budget information to an accounting system.

Assist in preparing monthly and quarterly investor reports.

Prepare sales tax and other government filings

Run reports from general ledger and ancillary systems.

Enter invoices into accounts payable system.

Prepare supporting schedules.
KEY SKILLS REQUIRED:
ACCOUNTING / BOOKKEEPING - Accounting Fundamentals

EXCELLENT COMMUNICATION AND INTER-PERSONAL SKILLS - Verbal Ability and Verbal Reasoning

ABILITY TO SOLVE PROBLEMS AND THINK CREATIVELY - Quantitative Aptitude, Spatial Intelligence

DETAIL ORIENTED WITH HIGH LEVEL OF ACCURACY IN OUTPUT

STRONGLY PROFICIENT IN MICROSOFT WORD AND EXCEL - Excel Basics

TEST DESCRIPTION
VERBAL ABILITY
Verbal ability is essential because grammar and vocabulary is a prerequisite for good spoken and written English.

VERBAL REASONING
Reading comprehension indicates an ability to comprehend and reason with the concepts on a written page.

QUANTITATIVE APTITUDE
Quantitative ability will indicate analytical thinking and problem-solving ability.

ABSTRACT REASONING
Abstract reasoning will indicate the ability to think clearly, identify logical patterns, learn new skills and solve complex problems. It is an indicator of fluid intelligence and shows an ability to strategize.

ACCOUNTING FUNDAMENTALS
The topics cover accounting topics such as posting entries,overhead allocation,FIFO,LIFO,Cash flows,stock valuation,adjustment entries,accounting principles etc.
MS WORD
The questions are on Keyboard shortcuts, Keyboard Combinations, Page orientations, Tables, Charts, formatting, commands.
Good News! You can customize this test as per your requirement
Choose and add questions from Interview Mocha question libraries

Add your own set of questions

Customize test settings like duration, number of questions, passing score, web proctoring and much more

Mail us at support@interviewmocha.com to create a custom test
Looking for a tailor-made test, to suit your assessment needs?
Get in touch
Global companies using Mocha assessments
How Mocha assessments are brewed
Speed up your IT recruitment with Interview Mocha
500+ IT skill tests
20+ coding languages
50+ domain knowledge tests
100+ digital 2.0 skill tests
Customer focus aptitude tests
Enterprise ready features & more...
GET A DEMO
Why hiring managers and recruiters across the globe love Interview Mocha
Take your first step to hire job fit candidates