3Ds Max Online Assessment Test
Topics Covered
V-Ray Rendering
Modelling object
Snapping objects
Working on the surface
Cloning
Setting object attributes
Animation
Creating 3d objects
Simulation
Cloning
Object scaling
Transform objects
Animation
Useful for hiring
3Ds Max Developer
3Ds Max Designer
3Ds Max Expert
3D Interior Designer
View Sample Report
Start hiring job-fit candidates using this assessment
GET A DEMO
"Interview Mocha's assessments eliminated reliance on resumes and reduced our time to hire by half. Now we spend time only on relevant candidates and take data-driven hiring decisions."
George Nichkov, Gett,
Global Analytics Team Lead
Question
Suppose you created an object as shown in the image which looks extremely faceted. You want to make it smoother for a better look. Which of the following option(s) will you use in order to fulfill your objective?




Note: There can be multiple correct answers to this question.
Answer
"Auto Smooth" of Polygon Smoothing Groups rollout

"MSmooth" in the Modelling Ribbon's Subdivision panel
Question
In order to provide a glowing effect to a wired object as shown in the image, which of the following effects take the major role?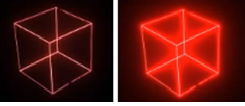 Note: There can be multiple correct answers to this question.
Question
Observe the image at the left which is the part of a Teapot object. It is required to refine it as shown in the image at right. On which of the following option(s) do you need to work in Modify tab in order to fulfill your objective?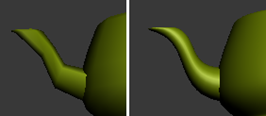 Note: There can be multiple correct answers to this question.
Answer
Set the Segments to 0 (Zero)
Test details:
This 3Ds Max online quiz test enables employers and recruiters to identify potential 3Ds Max experts by evaluating their working skills and job readiness.

The test contains MCQ's (Multiple Choice Questions), MAQ's (Multiple Answer Questions), Fill in the Blank, Descriptive, True or False.

Test Duration: 20 minutes

10 Application Questions

This 3Ds Max knowledge test consists the combination of application and theory questions that helps you to evaluate technical as well as practical skills of candidates.
Test description:
3Ds Max Online Test helps recruiters & hiring managers to evaluate in-depth knowledge of candidate about 3Ds Max solution before hiring or recruiting.

3Ds Max is best known as 3D modelling and rendering tools. These strengths come into play in architecture, manufacturing, game development, industrial design, and motion graphics.

The online 3Ds Max test specially designed to check application, practical skills of 3Ds Max developers – as per Industry Standards. Our 3Ds Max quiz test is created and validated by Subject Matter Experts.


3Ds Max assessment test contains questions on following Topics:

V-Ray Rendering

Modelling object

Snapping objects

Working on surface

Cloning

Setting object attributes

Animation

Creating 3d objects

Simulation

Cloning

Object scaling

Transform objects

Animation

Our powerful reports provide hiring analytics that helps you in making a better hiring decision and predict the candidate's performance. You can also ask for the customizable assessment as per your requirements.
Good News! You can customize this test as per your requirement
Choose and add questions from Interview Mocha question libraries

Add your own set of questions

Customize test settings like duration, number of questions, passing score, web proctoring and much more

Mail us at support@interviewmocha.com to create a custom test
Looking for a tailor-made test, to suit your assessment needs?
Get in touch
Global companies using Mocha assessments
How Mocha assessments are brewed
Speed up your IT recruitment with Interview Mocha
500+ IT skill tests
20+ coding languages
50+ domain knowledge tests
100+ digital 2.0 skill tests
Customer focus aptitude tests
Enterprise ready features & more...
GET A DEMO
Why hiring managers and recruiters across the globe love Interview Mocha
Take your first step to hire job fit candidates